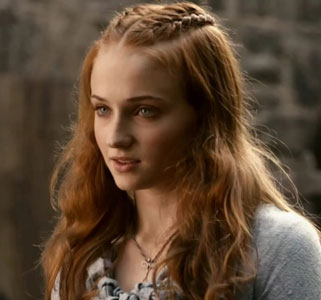 As an actress working on one of TV's hottest shows, Sophie Turner should feel great about the work she is doing. However, it's tough for the 17-year-old to sit down and watch herself on Game of Thrones.
In fact, it's downright cringeworthy for the young star.
She shared, "I really dislike watching myself on screen. I am very insecure about my acting. We are our own biggest critics. I have to sit in another room to my parents when they watch it."
Turner began shooting the HBO series when she was 13 years old in the role of Sansa Stark. Although this was her first high profile gig, she already had experience under her belt from her time in the theatre.
"I first started acting when I was three and joined Playbox Theatre. That was how my obsession grew," said the British actress.
That training proved to be just what she needed for the multiple rounds of auditions and callbacks for the ground-breaking series.
Turner revealed, "Playbox put me up for a lot of auditions, but it was through my drama teacher at school I heard about the Game of Thrones audition. The casting director knew about the drama department at our school."
"I had four more call backs in London. It was really intense, but fun. I did a lot of chemistry tests with other people – the last one was with Maisie (Williams) who plays Arya. She is lovely," continued the teen star.
Even with her Hollywood career, Turner still acts like any normal kid and loves to hang out with her family dog, Zunni, who was adopted from the series.
"Growing up I always wanted a dog, but my parents never wanted one. We kind of fell in love with my character's dire wolf, Lady, on set," she said.
"We knew Lady died and they wanted to re-home her. My mum persuaded them to let us adopt her."
That's definitely one of the perks of the job, she gets to go home with the on-set dog.