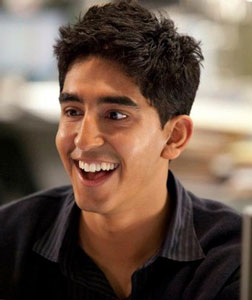 Dev Patel has no desire to be typecast.
"Me being who I am, I automatically get pigeonholed into some things," said the actor who is now starring in Aaron Sorkin's HBO drama, The Newsroom. "I do try to look for roles I can mold and change, and writers and filmmakers who aren't close-minded."
Patel has used his success to form a career he is proud of.  "I don't want to be a victim of the system—you know, an actor waiting for a phone call from his agent," the 22-year-old said.  "I want to generate my own opportunities," he told The Los Angeles Times. 
Patel has definitely made the most out of his role as Neal in The Newsroom—and the character is expected to grow throughout the show's first season.  "In one part, there's a shot of Neal rolling around in bed with a girl and he has to stop and grab his phone when news breaks," Patel said.  "Of all the good-looking men on the show, [Sorkin] wanted me topless in bed."
Patel admitted he wasn't really news-minded before being cast on the show.  "I'm not intelligent enough for this show," he said, jokingly.  Now, in order to understand the scripts, he Googles or looks up items on Wikipedia.  "That's how I learned about American politics," he said.  "Wikipedia.  Every night."
The Newsroom airs Sundays at 10 p.m. on HBO.