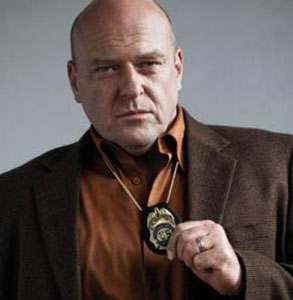 Not many actors would actually request to have their characters killed off a hit TV show.  But Dean Norris, who stars as DEA agent Hank Schrader on AMC's Breaking Bad, desperately wanted to be written off the show in the first half of the series' last season.
"I called [series creator] Vince [Gilligan] and I said, 'Hey man, maybe Hank should die in the first eight.  Wouldn't that be a great ending?'" Norris said in an interview with The National Post.  The 51-year-old wasn't acting purely out of the story's best interest—rather, he had another project he wanted to work on.
"When they [AMC] originally picked up the 16 [episodes] I thought, 'Great, I can do a pilot, do the 16 and then be free to do a show," Norris recalled.  "And then at some point f—king whoever decided they were going to split it into two eights so it cut me off from doing a pilot—and I had a pilot I wanted to do."
But Gilligan wasn't straying from his vision of how the groundbreaking show would end—especially after depicting Hank possibly discovering that his brother-in-law, Walt, is the notorious drug pusher he's been searching for.  "He said no in his nice Southern way: 'I need you, what else am I going to write about in the last eight?'" Norris remembered Gilligan saying.  "So I said, 'Oh f—king right,' and really I couldn't force him to do it because I have a contract I'd have to get out of but I asked him very seriously to kill me."
Despite the last eight episodes focusing more on the character of Hank, Norris maintains that his original plan to do the pilot was definitely in his best interest.
"It was either do eight episodes or do 24 and I've got five kids, man."
The eight final episodes of Breaking Bad will air on AMC, starting this summer.