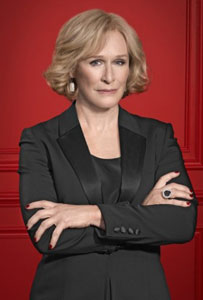 DirecTV's Damages his kicked off its final year on air this past July 11th.  Discussing her character Patty Hewes and the last season of the show, Golden Globe award winning actress Glenn Close has revealed that this will most likely be her last days on the small screen once the drama says goodbye.  "No, I don't think I would do another series," she sadly shared with Huffington Post.
While Close may be saying goodbye to television, she isn't necessarily parting ways with her long time character.  "I don't know if I ever truly say totally goodbye to these characters. I think they stay — they reside in me somewhere. Patty can be kind of dark and I'm not sorry to see the kind of the darker side go. But … I'm ready to move on. I feel a great sense of closure in that I think this season is a really good one. It has some great stuff about Patty and her life that people don't really know, reasons for her behavior."
After taking on the deviously brilliant manipulative Hewes back in 2007, the actress is finding it pretty hard to shake her intense character.  "I think I got into her pretty fast with some really good thought in the very, very beginning. I went to Harold Guskin, my coach who I use when I'm kind of confronted with intimidating characters. There was a scene in the pilot where I was at Michael's school and Ellen had come and given me papers to sign and I had this wonderful speech about how she should never have children because it would ruin her ambition and how children want all of you, all the time … In the end, I really found Patty when I realized she says things in a way that makes Ellen not know if she's been told the truth or not. Even if she tells the truth, there's a question and she always keeps people off balance in that way. That was a really important discovery to make early on — to play the opposite of what you'd think, play against what you think normal behavior would be."
Damages airs on Wednesdays at 9pm est.