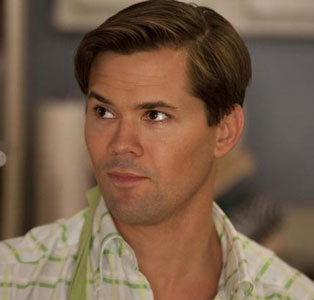 Looks like Andrew Rannells busy, bicoastal schedule has finally caught up with him.
The actor announced to The Huffington Post that he's leaving the HBO series, Girls, in the middle of the second season to focus his energies on his part on NBC's The New Normal.
"It was definitely [the scheduling]…I'm the luckiest guy in the world that I had this opportunity to do both of these shows, and it does come down to a scheduling thing and a timing thing," the actor said.  "One is shot in Los Angeles and one is here [in New York].  Unfortunately, that's the way it works.  I mean, if I could be in two places at once I obviously would have done it.  And I'm so grateful to Jenni [Konner, the show-runner of Girls] and to Lena [Dunham, the creator, writer, and star of Girls] and to Judd [Appatow, executive producer of Girls] that they were flexible enough to figure that out, with the timing of all of it.  Because it's a hard thing, to put together these shows with people's schedules, and I'm very grateful for the fact that they were generous enough to work around that…because what an awesome show to be a part of."
Rannells will appear in the first four episodes of Girls second season, which begins airing Sunday, January 13 at 9 p.m. on HBO.  He can also be seen on The New Normal on NBC, Tuesdays at 9:30 p.m.