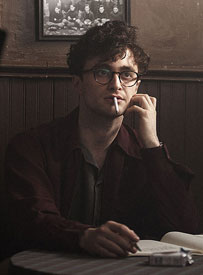 Daniel Radcliffe is proving that successful child actors can transition into successful adult actors by picking and choosing roles that appeal to him on a creative level. In his latest film, Kill Your Darlings, the 24-year-old actor demonstrates that his acting chops run much deeper than Harry Potter.
In the film, the British star is tackling the role of beat writer Allen Ginsberg and a tale of murder amongst the ranks of fellow writers like Jack Kerouac and William S. Burroughs at the end of World War II. Radcliffe first encountered the script written by John Krokidas in 2009. The young Yale grad also planned to direct the project.
It didn't scare Radcliffe that Krokidas was inexperienced in the feature film world. In fact, the Brit had great confidence in his abilities.
"Nothing about him said first-time director," he said. "He was very confident and knew exactly the film he wanted to make. That's the thing: The vision is the most important thing. I'd rather work with a director who's never made a movie before but has a vision than work with somebody who's done 10 films and couldn't give a shit."
Radcliffe would eventually have to pull out of the project when he had to shoot Harry Potter and the Deathly Hallows Part 1 and Part 2, but he was able to rejoin the cast when a financial hiccup delayed the indie film.
Even thought the film has the actor experience his first gay sex scene, he wasn't ruffled by the material after starring in the dark and edgy play Equus on Broadway and in the West End.
"There was no having to talk anyone into anything. My agents know what I want to do with my career and there's no sense of a pressure from them to force me to do anything but that. I think my agents are sensible people and they recognize a brilliant script when they see one. And this was brilliant," revealed the former child star.
While the media has played up the sex scene, the actor shrugs off any suggestion that the scene was salacious in any way.
"I'm really glad the scene is good and I'm really glad we showed a vulnerable loss of virginity scene in that context," Radcliffe explained. "But it was just a scene. It was just another scene and I didn't freak out because I was having to do it with a man. I'm an actor and that's my job. So, it really isn't as much of a big deal as maybe everyone else thinks. I think it's only getting the attention it gets because of my career and the fact that I've come from Potter to do this."
Kill Your Darlings opens Oct. 18 in limited release.