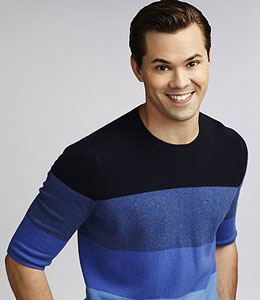 Andrew Rannells recently appeared on HBO's hit show Girls as formerly-closeted ex-boyfriend, Elijah and in an interview with Vulture, Rannells touched on some of the racial controversy surrounding the show.
He said, "It's tricky, because I see it a lot in theater, and I see it a lot in television, too.  If you get into multicultural sort of casting for no other reason than to diversify then it seems false.  The show is about this group of people moving to New York with their group of friends from college in the Midwest, so this city creeps in on those people and their lives eventually open up.  I'll be honest: When I moved to New York from Nebraska in '97, I came with my best friend, a white girl from Fort Wayne, Indiana.  So if I was going to write that as a television series, it would be about two white people.  But after a year in New York, our friend demographic opened up.  When we got here, we were white-bred Midwesterners sticking together.  This is just the beginning of the show."
Rannells became well-known for his role in the Broadway smash The Book of Mormon, and his next project is as the lead in the new Ryan Murphy comedy, The New Normal.  The actor, who happens to be gay in real life, said that he doesn't specifically seek out gay roles. "The first big professional thing I did was I was Link Larkin in Hairspray on Broadway, then I went to Jersey Boys to play Bob Gaudio, and then The Book of Mormon to play a Mormon missionary," he said. "Then Girls came along with this very funny, very well-thought-out character that's not always seen, and Ryan Murphy came along with this really fantastic script."
Even if Rannells doesn't look for gay roles on purpose, he does feel a special connection to these parts.  He said, "Well, there's a part of me that would say I treat every character in the same way—to be as honest as possible with every role.  But then, as a gay man, I think there's a responsibility to show a fully realized person, so even though Elijah might not be the best person in the world, I want to make him as fully fleshed out and human as possible.  Because chances are he's gonna represent somebody who's a real person.  With The New Normal, I feel even a larger responsibility because it's sort of a new idea for a lot of viewers and Americans, to see Justin Bartha and I play this very much in love couple who just wants to have a baby.  We're telling that story for the first time, in a way, for a lot of people, so I think there's a lot of responsibility there."
Girls airs on HBO, Sunday nights at 10:30 PM, and The New Normal will premiere on NBC in the fall.