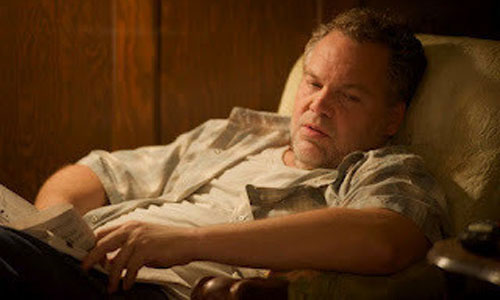 Luckily Vincent D'Onofrio has learned to not take his work home with him—since he plays a psycho murderer in his new film, Chained.
"When I was younger, I used to carry my characters around with me 24/7," the actor told Examiner.com.  "At my age and with the experience that I have had, I can move in and out of character whenever I feel like it and that makes my life much easier and makes my job more fun.  I leave my characters at work.  I have three kids and a lovely wife so when I am home, I am home."
Chained, which is available to rent now on Blu-ray and DVD, allowed D'Onofrio to work with writer/director Jennifer Chambers-Lynch, who he said is "a very hands-on director."  The actor plays a cab driver who kidnaps a boy, who later becomes his sidekick.  The film also costars Julia Ormond as the boy's mother.
"It is all method acting," D'Onofrio said.  "It is what I was trained to do and still train to do.  It is all about getting in the zone and being committed to what you are doing."