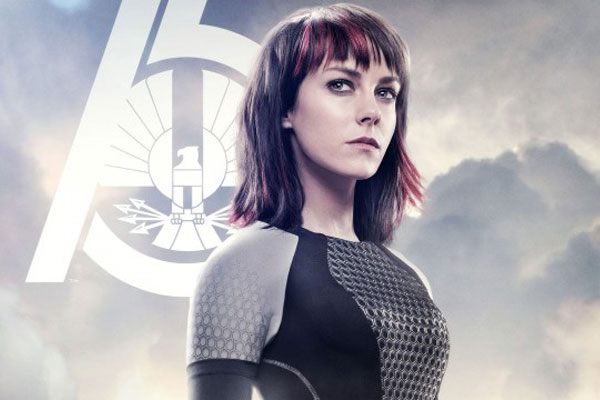 It's no shocker Jena Malone is one of the most talented actors to glide from child star to full fledged adult talent. Now she's continuing her stride as one of the stand-out characters in the final The Hunger Games film, Mockingjay – Part 2.
One of her first and most talked about scenes in the series was when she disrobed in front of Katniss (Jennifer Lawrence) and Peeta (Josh Hutcherson) without a care in the world. That scene and the others that followed, were meant to throw the other characters off their game. When she sat down with Vulture recently, she talked about how met with a PTSD specialist and how that helped her bring the anger to her character, Johanna.
She noted that it was their director's out of the box approach to things that got her to that abrasive mental state. "One of the best things that [director]Francis Lawrence brought to the series was not only his love of the books — he knew them inside-out, and he would reference them constantly — but he had everyone go and meet with a post-traumatic-stress-disorder specialist before we started filming Catching Fire. I got to talk to him for a couple of hours, and he recommended some books. Learning what really happens to people when they go through a traumatic life-or-death situation just kind of blew my mind. How it changes the body. How it changes your personality. How it changes your reaction time to things. That's where I started."
"I read a few books about these soldiers in war and combat coming home, and the anger and dissociation between real life and what is their life. And it just clicked! As soon as I started understanding what that horror is, what that anger is, I realized that she had developed all these ways to be able to survive. She's using her humor, her combativeness, and her unpredictability to keep people at arm's length, but also to protect herself. Like, her getting naked in the elevator is an intimidation technique, but it's also a nod to where she will be going. And the fact that a woman can use her nakedness as a weapon, and then someone later could use that same nakedness as a weapon against her, as a form of torture? It's a wild thing! A wild, wild thing. But once I figured out her core, all the hardness was easy to play with — albeit hard to hold on to! Anger doesn't make you feel warm and fuzzy at night. But it was amazing to channel! It's definitely super powerful, tapping into that kind of energy, but also really exhausting. I remember on Catching Fire, I'd come home sometimes and people would be like, 'Let's go out and drink!' And I'd be like, 'You know what? I am so beat, I'm actually just going to go crawl into a hole and die.'"
Mentioning the PTSD, Malone was asked to talk about how she and the counselor channeled different stages of Johanna's traumas into the role. "I talked to the counselor about the humor, and the idea of enlarging your personality to make it the biggest personality in the room, so that you don't have to talk about how you really feel, which is sort of the biggest hole in the room," she said.
"It's an overcompensation mechanism, really, for young children — when they don't feel valid, when they don't feel safe, they pretend to be much stronger, braver, or smarter than they really are," she went on to say. "It was fascinating to learn about that stuff, because it's something we all do, even without dealing with this kind of extreme trauma. These triggers are the kinds of things we all work with and deal with in normal day-to-day life."
The Hunger Games: Mockingjay – Part 2 is in theaters everywhere now.