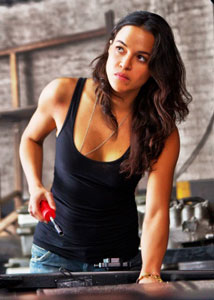 Michelle Rodriguez might be best known for starring in numerous movies in The Fast & The Furious franchise, but her original ambition was to become a writer.  Though she has yet to write a film, Rodriguez spoke to The Wall Street Journal about how she ended up acting — including how she landed her first starring role in Girlfight.
Rodriguez recalls, "I was doing extra work because I quit school early and got my GED. I wanted to be a writer and I didn't know how to go about it. My brother told me to go to a technical school because they actually help you get a job and I said I didn't want to. He said he would give me two years, and then he would make me get a real job.  I remember going to Port Authority at 5 p.m. and everyone in suits and ties were so depressed. I knew I couldn't do that kind of work, have that kind of a job."
Like other struggling actors, the bills began to pile up.  She reveals, "I had $2,500 due in bills that I had to pay. I had no money and no job and my brother came up to me and asked me if I really wanted to act. I said 'yes' and he handed me Backstage, which is where all the new actors look for work.  Then the Girlfight thing came along."
Indeed it did — not only did Rodriguez beat out 350 other women who tried out for the role, it was her very first audition.  Over a dozen years later she has done quite well for herself as an actress… now if she can only get that writing thing going again!