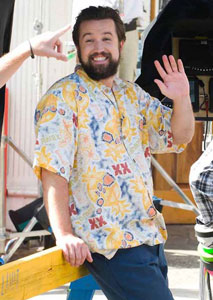 Don't count on the cast of FX's hilarious It's Always Sunny In Philadelphia to ever do anything that a conventional sitcom cast would ever consider doing.  After all, have you ever noticed that sitcom casts tend to become better looking as the show gains success and the actors earn enough money for all those visual "extras" they didn't get in season one? 
Well Always Sunny star Rob McElhenney has, and decided to do something about it as his show — which he not only acts in, but serves as co-creator, executive producer, and has written and directed several episodes — enters its seventh season.
McElhenney decided to take on the fifty pound weight gain after watching other sitcoms and considering what It's Always Sunny in Philadelphia stood for.  TV Guide reports that on Saturday McElhenney said at the Television Critics Association previews, "It came when I was watching a very popular sitcom, and I noticed the people were getting better and better looking as the seasons were going on.  I always thought that what we were trying to do on Sunny was the deconstruction of the sitcom."  After all, the characters on the show have more-or-less done every possible dirty deed in order to get ahead in life, so one of the characters letting himself go isn't a major surprise.  McElhenney points out the realism of this, explaining, "The reality of five people in a dive bar in Philadelphia is that they won't get better abs."
McElhenney and his cohorts must be doing something right, as FX has recently renewed the series for two additional seasons, with the option for a third (which would be the tenth).
The seventh season premiere of It's Always Sunny in Philadelphia will air on September 15.