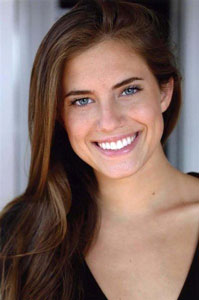 Girls actress Allison Williams, who plays Marnie on the Judd Apatow freshman HBO series, tells Elle that she scored the role in what was her first audition in LA.
"When I graduated from college in early 2010, I decided that I needed to create a calling card, some kind of business card that people can link to my name and face. So I did this "Mad Men Theme Song…With a Twist" music video," she said. "I released it just as I moved to LA, and my agents got a call from Judd Apatow saying, 'We want to make sure Allison auditions for this new show we're doing with Lena Dunham. Please send her Tiny Furniture and the pilot and see if she's interested.' It was so crazy that he saw that video and somehow saw Marnie in me. So I watched Tiny Furniture and was just in awe. Then I read the pilot and it was love at first read."
Recalling her trip to HBO, Williams, who is the daughter if NBC Nightly news anchor Brian Williams,  shared that she didn't expect much to come from her audition when she first arrived in Los Angeles, spotting slew of talent all looking to land the part of Marnie Michaels.  "I actually really wasn't sure I'd get it. I'd only failed at auditions before and it was my first one in LA. I just remember walking through that cavernous, enormous lobby of HBO and feeling like, I'm not big enough for this. And in the waiting room there were so many girls I recognized—fantastic actresses—and I just felt like, oh yeah, I'm just here to learn."
Having met Lena Dunham's friend, who Marnie is inspired by, Williams decided instead to approach her character from a different angle after talking with Dunham.  "I think that's where my English major skills—if you can even call them skills—came into play because I was able to look at each episode as its own arc and then look at the season on a macro level as a whole arc. I could sort of see what was happening to Marnie and what she was making happen for herself. Marnie was actually written by Lena about one of her very good friends and I now know that friend and have spent a lot of time with her. Initially, I thought maybe I should just try to play that friend, but Lena was like, 'No, now Marnie is you—it's yours to craft and mine to write.' And that was really fun."
Girls was just picked up for another season.