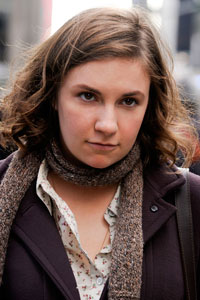 Although Lena Dunham's new HBO series, Girls, closely mirrors her own life, the show's creator and star is unsure where she stands on blurring the line between fact and fiction. In the half-hour comedy, which is only two episodes in but has already started making waves in the entertainment world, the New York-based actress plays a hip, twentysomething Brooklynite who's just been cut off financially by her parents.
"I just hope that I continue to keep a line between my private life and who I play, even if they are closely intertwined, and so I'm careful. I don't even know where my line is, but I know I have a line," Dunham recently told Time. 
"But I like the idea of people seeing that stuff and feeling like they know me… I get so many great tweets from people that are like, 'I saw your movie and you are me.'  I always thought of myself as a weirdo, and so the fact that these characters would resonate that way with other girls makes the world feel smaller in like a really comforting way."
For someone who doesn't consider herself much of an actress, the early success of Girls must be pretty gratifying. "My range is somewhat limited. I can play very annoying girl, very lost girl and then all the things in the spectrum between," explained the 25-year-old, who briefly appeared as a nurse in last year's HBO miniseries Mildred Pierce. 
"In the final version, you can hear me but my head is cut out. It's just me from the neck down. I was so bad," she recalled. "And I'm not saying this like in a way where it's like, 'No, you weren't. You were really great!' Like, they cut out my head."