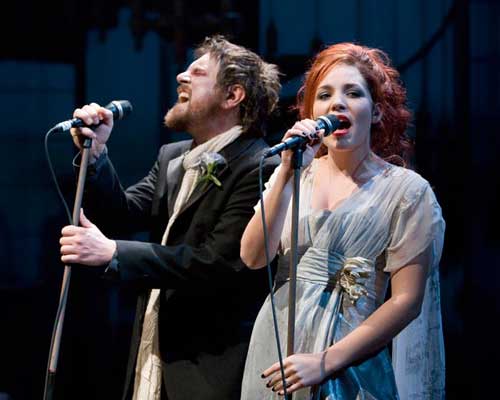 This past weekend I saw Duncan Sheik's new musical, Whisper House at The Old Globe Theater in San Diego. I say musical, but it's not really a musical in conventional terms. The cast don't burst out in song and dance across the stage. No, they leave the singing to the Ghosts.
Set in World War Two (1942), Christopher (Eric Brent Zutty) is sent to live with his aunt Lilly (Mare Winningham) in a remote lighthouse. Christopher soon begins to hear music that no one else can hear and to top it off, he begins to suspect his aunts Japanese worker, Yasuhiro (Arthur Acuna), of being a spy.
And that's all I'm giving away.
The Ghosts played by indie rockers, Holly Brook and David Poe, come and go in the scenes, singing and pretty much doing whatever they want. They take off lampshades and turn the stand into make-shift microphones, fling off Christopher's covers when he's trying to sleep and make general mischief for the cast. They act as… narrators of the show? I'm hesitant to say narrators because at some points they deliberately sing their songs to screw things up. And that's what makes this show so great. The Ghosts are having a fantastic time messing with everyone. And usually to a bad outcome.
The set is fantastic, the songs are great (I'm still singing The Tale of Solomon Snell, We're here to tell you and Take a Bow to myself) and the cast is perfect – particularly Winningham (she reminded me of my aunt) where she has this detached love for Christopher. You know she cares for him but can't bring herself to show him any sort of emotion.
If you liked (or loved, like me) Sheik's Spring Awakening, you'll love this show.
Music & Lyrics by Duncan Sheik
Book & Lyrics by Kyle Jarrow
Directed by Peter Askin