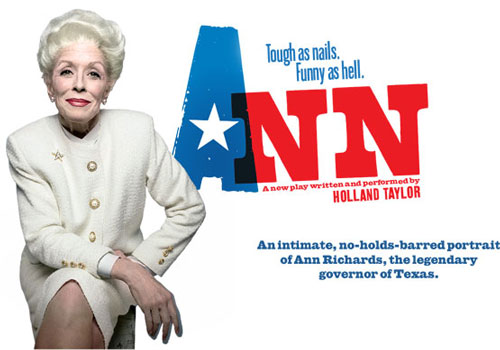 The best way to describe Ann, Holland Taylor's one-woman show about former governor of Texas Ann Richards that she both wrote and stars in, is what the Hall of Presidents in Disney World would be like if instead of a robotic Barack Obama the host was a Texas-twanged white-haired lady who didn't care that she was on a stage in the family-friendliest theme park in the world.  As such, it's infinitely more entertaining than a real or robot president could ever be.
Ann has had a long history on the way to Broadway.  Taylor began writing the script in 2009, workshopped it in Texas, and brought it to Chicago and Washington, D.C. over the last few years.  This year it has finally come to Broadway, a place where Taylor hasn't appeared in thirty years since the legendary failure of Moose Murders (which closed and opened the same night in 1983!)
Ann will certainly enjoy a much longer run than Moose Murders, and all that is thanks to Taylor.  Even if you are only familiar with her from her role as Evelyn Harper on Two and a Half Men it's obvious how wickedly funny she can be and how great her comic timing is (Taylor's Two and a Half Men co-star Jon Cryer and his wife Lisa Joyner are two of this show's co-producers).  But that is a television show with a large cast — the obvious challenge of the live one-person show is that the actor has to be alluring enough to hold an audience's interest for the length of the show.  For the most part, Taylor has little trouble maintaining the interest of the audience for the two-hour duration of Ann.
The play imagines Richards giving a speech at a graduation ceremony at an unnamed Texas college, which goes on lengthy tangents that cover the entirety of her life.  It's important to note that while Richards may not have necessarily been an iconic politician, she was definitely an anomaly in Texas politics.  Yet Richards understood the importance of image in the way all successful politicians have had to in the television age, and her persona of a charismatic, no-nonsense supporter of economic and social change propelled her to the Governor's mansion, where she served from 1991 to 1995.
While Taylor is a marvel by crisscrossing the stage like a woman half her age, Taylor the actor is stronger than Taylor the writer.  Particularly interesting aspects of Richard's life — including her divorce and alcoholism, two issues that could have completely derailed her political career before it even started — are for the most part glossed over so Taylor can get to the play's setpiece: a "day-in-the-life" sequence of Richards working in her office.  This sequence takes up a majority of both acts (the ten-minute intermission is cleverly portrayed as a bathroom break for Richards herself), and while it is full of hysterical quips and threats to her staff (the lone other "actor" in the play is the voice of Richards' assistant Nancy Kohler on her speakerphone, portrayed by Julie White), the lengthy sequence begins to loose steam toward its conclusion.  In particular, it loses its visual flair when Taylor is sitting at Richards' desk, though after several physical gags during the sequence the brief moments in her desk chair are well-deserved for Taylor.
It's clear that Taylor intends the play to more of an entertaining experience rather than a historical assessment of Richards' life, and on that level she succeeds.  The mentions of Richards' policies are carefully selected to be crowd-pleasers among left-leaning audiences that would draw wild applause and ignore what would be less popular decisions among the same audiences, like Richards' renewing of Texas' "Homosexual Conduct" law despite generally being a supporter of gay rights, but this isn't unexpected since Taylor clearly has great affinity for Richards.
I'm assuming Taylor herself has made many tweaks to the material and staging over Ann's long trip to Broadway, which makes me wonder what exact role director Benjamin Endsley Klein has had in the production (he's been with the show since its debut in Texas).  Yet he and Taylor have created a very funny production that celebrates the life of a truly unique Texas institution that's a lot of fun if you are a fan of Taylor or outspoken, gritty old ladies.  And who isn't?
Ann is at  the Vivian Beaumont Theater (150 West 65th Stree) and runs Tuesday through Sunday (with two performances on Wednesdays and Saturdays). Tickets are currently on sale through June 9.