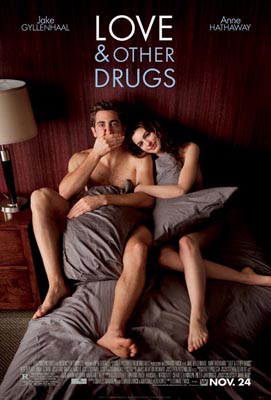 Say what you will, but Jake Gyllenhaal and Anne Hathaway have great chemistry together and in Love and Other Drugs, it's on full display.
Gyllenhaal plays Jamie, a total ladies man who has just found a job as a pharmaceutical salesman. While schmoozing one of his Dr. clients, he meets Maggie (Hathaway), a free spirit who has no desire to have a boyfriend. After realizing he's falling in love, he pulls out all his charm to snag the girl he loves. But, there's a catch.
Which I won't give away. Sorry.
I"m not usually a fan of romantic comedies but this isn't like that at all. Wait… is this a romantic comedy? It's a drama. No, wait… it's a comedy. To tell you the truth, you can't really classify it as one or the other. All I know is that I really liked it.
With Ed Zwick as the director, you know it's going to be something other than the usual by-the-numbers film where boy-meets-girl. Zwick directed one of my favorite films ever, Glory, and I will see anything he does.
This film is sexy, funny and sad all rolled into one big ball of celluloid. There's tons of nudity – which as a fan of Anne Hathaway, you will absolutely get no complaints from me – but it never feels gratuitous.
Oliver Platt (as Jamie's business partner) and Josh Gad (Jamie's obnoxious brother) are always welcome additions in any movie and add a lot to their roles.
Yes, the movie is predictable but the two leads are so great to watch together that, for me, it didn't really matter. You know how it's going to end but so what? How else could it end?
Director: Edward Zwick
Cast: Jake Gyllenhaal, Anne Hathaway, Oliver Platt, Hank Azaria, Josh Gad, Gabriel Macht
Writers: Edward Zwick, Charles Randolph, Marshall Herskovitz, Jamie Reidy