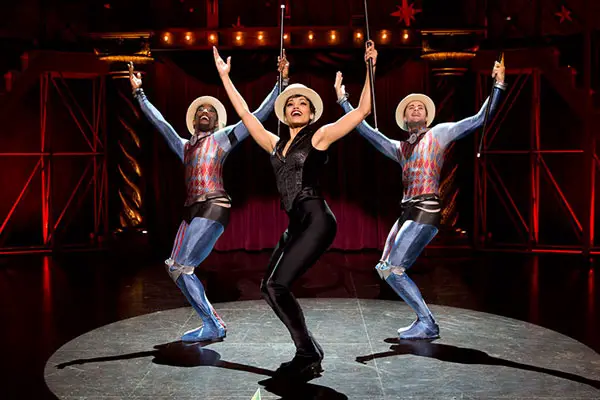 Magic, mystery, acrobatics, this Pippin is bringing the show, in the form of a traveling circus troupe here to tell you an age old tale to the San Diego Civic theater through Sunday, August 30th.
Pippin is the dissatisfied heir to the throne of Charlemagne, who though smart, is always looking for the meaning of his existence, enlightenment, and transformation.
Pippin's narrative can seem a bit thin as it basically is an existential search for self and ultimately, your place in the world.  This is something that can either be thematically tiresome (all that questioning of "Why?" Who am I?"  "Aren't I special?") Isn't exactly riveting as a plot line, yet proves why it is tirelessly popular with the youth theatre set.   Well, that and the themes of sex, murder, and politics which do take this show to some of the darker corners of humanity.
As proved in the first Broadway show, pair it with some sharp, sensual, and slightly sinister movements, dance, and motivation, and the show fills out nicely. The balance of the seductive Fosse choreography and the sly and smiling Leading Player make the journey intriguing as we see what trials, tribulations, and temptations Pippin will encounter next.
Balance is a tricky thing though, and current YouTube/Twitter/Facebook fed audiences are looking for more in a show and this Pippin delivers.  This version of the show is one that is chock full of acrobatics, magic, juggling, and movement; thereby creating a visual overload that is just the right note. Less slow seduction, and more of a misdirection, this troupe is here to get you and Pippin to buy in by totally overwhelming your senses.  The Leading Player even humorously notes how they have magnanimously added an intermission to this show as an accommodation to the short attention span of an audience nowadays.
Gabrielle McClinton is the Leading Player and her strong vocals, dazzling smile, precise movements, and dancing is charismatic and entertaining.  As she guides Pippin, and the audience through the show within a show, she is less the cool, slow section of Ben Vereen's Player, and more a shiny, brittle con who is always in on the joke.
Brian Flores is our smart yet sensitive titular youth on a meandering and misguided search for purpose and fulfillment either through celebrity or opting for more ordinary, and everyday concerns.  Flores has a fantastic singing voice, and is fearless as he climbs, jumps, and joins in on the acrobatic fun.  Yet, because this character is so easily swayed, he comes off as a bit bland before finally making a decision and finding his purpose near the end of the show.
Priscilla Lopez as Pippin's sassy Grandmother, Berthe, and Sabrina Harper as  Fastrada, his devious Step-Mother are both stand outs as they each deliver show stopping numbers.  John Rubinstein, the original Pippin on Broadway, is back as the King and is very funny and quirky as he tries to exasperatedly explain to Pippin that "War is a Science."
What makes this commedia delle'arte-style musical really work is the amazing and awe inspiring antics of the entertainers that fill out the rest of this troupe.  This is a fully assimilated show between text and the Fosse-inspired choreography and the acrobats of the Circus Creation of Gypsy Snider of Les 7 doigts de la main. Their performances are what help smooth over any cracks the show may have through sheer force of energy as they twirl up and down silks, vault over barriers and medicine balls, fly through the air, and hang from hoops by the edge of their toes. Their ever present skill and artistry keep you engaged, even when the plot may not be doing the same.
This is a thoroughly enjoyable and updated version of Pippin that dares you to join them.  If you've ever wanted to run away with the circus, this is the one I suggest.
Pippin is playing at the San Diego Civic Theatre through Sunday, August 30th.  For ticket and show times go to www.Broadwaysd.com