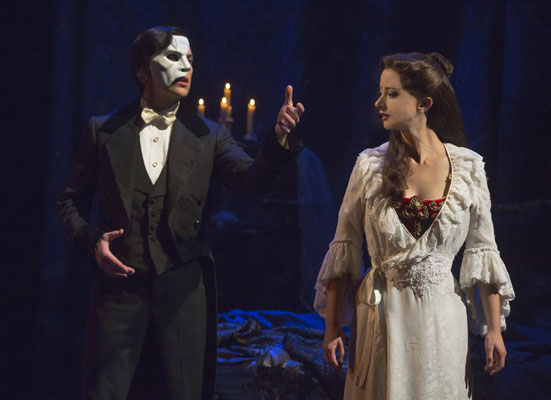 Judging by the long and winding line in front of the merchandise booth this past weekend, Cameron Mackintosh and Andrew Lloyd Webber's The Phantom of The Opera will have no trouble selling tickets for its run at the San Diego Civic Theatre.
Whether you've seen the show once or you're in double figures, this new production features an updated set that makes the show definitely worth checking out again. It's got a revolving two-story set and a handful of animated projections that make the show feel bigger (if that's possible) and more open. They even have a staircase, where each step disappears after the actor has moved onto another step. It's a neat effect but I swear, I was holding my breath when Christine (the wonderful Katie Travis) made her way down.
The new Phantom also has a new Phantom with Chris Mann. Mann was a finalist on NBC's The Voice and after watching his performance, you can see why he went so far in the show. His voice is spectacular; clear and crisp and strong as heck.
As mentioned, Travis' Christine is terrific. As good as Mann is, she is better and the two sparkle in their scenes together. Storm Lineberger makes for a solid Raoul and has a really nice, no-frills voice. And the leads can't be as good as they are without a top-notch ensemble and they definitely have one here – Jacquelynne Fontaine, David Benoit, Edward Staudenmayer, Anne Kanengeiser and Frank Viveros to name a few.
I've seen this show probably five times now, some good and some bad and this version, directed by Laurence Connor and choreographed by Scott Ambler, might be one of the best.
'The Phantom of the Opera' is playing at the San Diego Civic Theatre until October 18th.
For tickets and more info: BroadwaySD.com