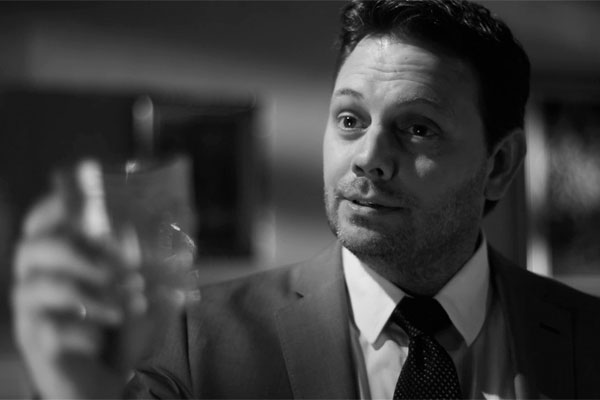 In the short film, The Recursion Theorem, Dan Everett (Dan Franko), suddenly wakes up and finds himself in a strange room. It's clear he's got no idea where he is or how he got there. It's one of those rooms that looks like the living room your grandparents had growing up; nice chairs that look like no one has ever sat in them, creepy paintings and booze.
The only problem is that in this room, there's no way out. And as he tries his best to leave, he just ends up in the same place over and over, sweaty and out of breath.
Is he in a dream? Is this some sort of penance he's got to pay to a higher power? Whatever the reason, it's eerie and a bit disturbing.
There's some really nice work from Franko. It's a one-man show as he's the only actor in the film. At one point, he's even acting opposite a calmer version of his character. As the film progresses, you can see him slowly going mad as he gets more and more desperate to leave whatever world or place he's landed in.
Shot in black and white and using some cool special effects, writer/director Ben Sledge has made a film that could easily be an episode of The Twilight Zone.