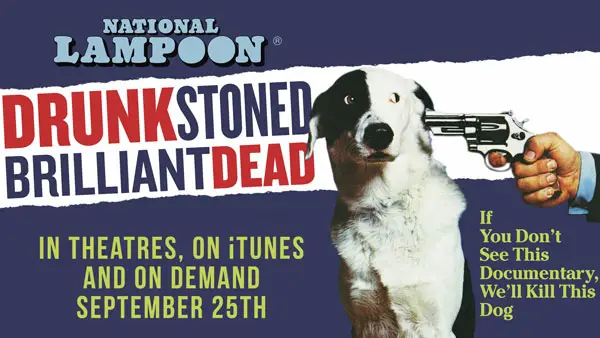 The first time I'd ever heard of National Lampoon was when I first watched Animal House on videotape at my grandmother's house. At the end of the summer, the tape was worn out, I discovered Saturday Night Live and quickly started searching out all things Lampoon.
There are tons of people like me and the new documentary Drunk Stoned Brilliant Dead: The Story of The National Lampoon is for us. The film traces the history of the National Lampoon, from its beginnings in the 1970s with the original magazine to a Grammy-winning album, an off-Broadway play, radio show and finally movies (Animal House, Vacation).
Included in the history are so many people who've shaped modern comedy: Bill Murray, John Belushi, Chevy Chase, Harold Ramis, Gilda Radner, Christopher Guest and many, many more. For a time, they were the "humor empire in the United States," said Matty Simmons, the publisher of the magazine and the person responsible for pushing Lampoon into theatre, radio and eventually film.
And he was right. For a time they were on fire. The magazine had 12 million readers and the films were some of the most successful comedies ever made. But with such a high comes an eventual fall. The Lampoon was a victim of its own success. The writers and casts were being "poached" – as Simmons states – by Hollywood and more significantly, Lorne Michaels' new NBC show, Saturday Night Live.
The doc tells the story through animation and interviews – both old and new – from former writers and cast members. It shows the inner workings of the magazine and the relationship of the true men behind the magazine, Henry Beard and the brilliant Doug Kenney. It also features old footage of Belushi, Murray, Ramis, Chase and Radnor rehearsing and performing the radio show, which are priceless.
National Lampoon doesn't get as much credit as it should for what it did for comedy in the 70 and 80's. With this terrific new doc out there, hopefully that'll change.
Drunk Stoned Brilliant Dead: The Story of The National Lampoon is in theaters and On Demand now.