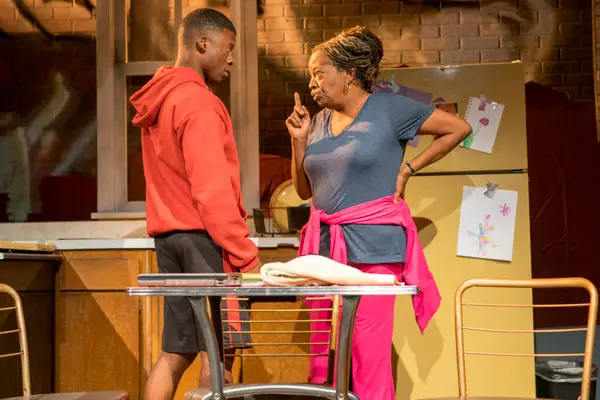 Kimber Lee's brownsville song (b-side for tray), the first play in Moxie Theatre's 2016 season, is a tragedy that's unfortunately all too familiar. Set in the Brownsville neighborhood of Brooklyn (but really, this could be any big city in America), the play tells the story of Tray, a high school senior whose life is cut short by violence and his family's struggle to process his loss.
Much of the play happens in flashbacks where Tray, the excellent Cortez L. Johnson, is the typical teen: He wears hoodies, is constantly checking his cellphone and he's got his headphones permanently implanted in his ears, all while applying for college scholarships. The kid's not perfect but who is at that age? As Johnson plays him, he's full of life; smart, funny and when he walks in to a room, he raises the energy a couple notches.
When we come back to present-day, you can see how his death has affected his Grandmother, Lena (Sylvia M'Lafi Thompson), and his younger half-sister, Devine (Zoë Turner Sonnenberg). Sullen and heartbroken, the two are just shells of their former selves.
And adding to all of this, Devine's real mother, Merrell (Jyl Kaneshiro), a former junkie, has recently come back into their lives.
The show is both funny and incredibly sad and director Delicia Turner Sonnenberg blends the two perfectly. Her job was made easier, I'm sure, with Johnson and Thompson as the leads. Thompson opens the show with a monologue and you can't take your eyes off her, she's such a powerful actor. Her voice alone is a gift. If she doesn't narrate audio books, she should. Thompson and Johnson are the real draws here and every time the two share a scene, it's flawless.
As we keep moving back to the flashbacks, the real tragedy we're witnessing is what Tray could have/would have become.
brownsville song (b-side for tray), which also stars Alex Robinson, is playing at Moxie Theatre through February 28th. For tickets and more information, Call 858-598-7620 or visit www.moxietheatre.com