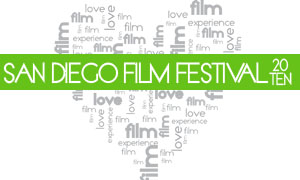 This past weekend, I attended the San Diego Film Festival.  This is a great festival to attend; great films and documentaries, fun parties and no attitude.
Unfortunately, halfway through, I got sick and spent the rest of the weekend on the couch.
But, I wanted to give you a run down of the films and docs I did see:
Films
Morning: The story of a couple dealing in the aftermath of the death of their son was the opening night film.  Written, directed and starring Leland Orser, the film shows how 2 people deal with death. It's at times funny, sad, horrifying and uplifting. It also stars Jeanne Tripplehorn, Laura Linney, Elliott Gould, Jason Ritter and Kyle Chandler.
A Little Help: Produced by my friend Joe Gressis, this won the Best Feature Award at the festival. Directed by Michael Weithorn and starring Jenna Fischer and Chris O'Donnell, it tells the story of a woman who gets caught up in a series of lies in order to take care of herself and her 12-year-old son.
Documentaries
Dive: There's a growing trend of people sneaking into the dumpsters of grocery stores in the dead of night to recover perfectly good food… who knew? This documentary shows you how much food grocery chains waste – and it's not only the ones you'd automatically suspect; Whole Foods and Trader Joes are also huge culprits. The doc follows one man's quest to get the chains to stop wasting this horrible amount of food and put it in front of people who can use it. It's really an eye opener.
My Run: This tells the true story of Terry Hitchcock, a man who lost his wife to breast cancer, raised three children on his own. Then, at age 57 decided to run 75 consecutive marathons in 75 consecutive days to honor his wife and bring attention to the hardships faced by single parent families.
So, even though I only saw four films, they were all wonderful in their own right. Unfortunately, I missed several other films (I especially wanted to watch Welcome to the Rileys and Nowhere Boy).
If you get a chance, check out the festival next year!