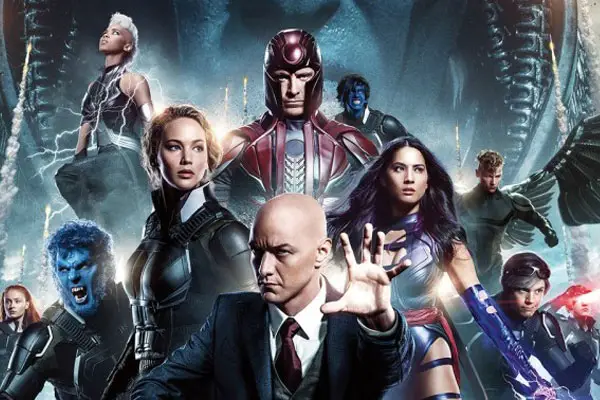 Days of Future Past, the last installment of the X-Men franchise, was an almost perfect melding of comic book to film. It followed most of the classic story-line from John Bryne and Chris Claremont and added some nice cinematic flavorings. It's easily the second best of the X-Men films, right behind X2.
When director Bryan Singer set his sights on the Apocalypse arc, it seemed like a no-brainer. It's another classic and long-time fans have been itching to see the story on film. Unfortunately, the results aren't nearly as good as Days of Future Past.
Apocalypse (Oscar Isaac) is the first mutant the world has ever known and he's become more powerful over time. He's got the ability to take other mutants powers which has made him nearly invincible. After being ambushed and buried inside an ancient pyramid, he's finally freed and embarks on a plan to create a new world, where he will reign. Seems logical to me. He recruits a team of four mutants – the four horsemen of the apocalypse – which includes Magneto (Michael Fassbender), who's just been thrown a terrible punch in the gut and is now back to his old ways of evil.
As Apocalypse begins to wreak havoc, Mystique (Jennifer Lawrence), Beast (Nicholas Hoult) and Professor X (James McAvoy) lead a team of young X-Men – Jean Grey (Sophie Turner), Cyclops (Tye Sheridan), Quicksilver (Evan Peters), Nightcrawler (a perfect Kodi Smit-McPhee) and Storm (Alexandra Shipp) – in an all-out battle to save the world.
There are some fun moments in the film, but they are few and far between. We get a cameo from our favorite X-Man, Beast and Quicksilver are good for some quips and Nightcrawler is a nice addition to the group. But overall, what Apocalypse is lacking is passion. There's no inspiration anywhere in the film. Even in the special effects, there's no big 'Wow!' moment. And Isaac is always fantastic but he's hidden behind a ton of makeup and prosthetics, making it hard to be truly scared of the character.
Another thing I don't understand is why are some characters killed? These are iconic characters in the X-Men world and they're whacked for seemingly no reason. Especially one character in particular because there's so much he could have offered in future installments.
The film doesn't live up to Singer's best X-work by a long shot and with the great Captain America: Civil War and Deadpool still fresh in everyone's mind, audiences might be expected to leave X-Men: Apocalypse disappointed.