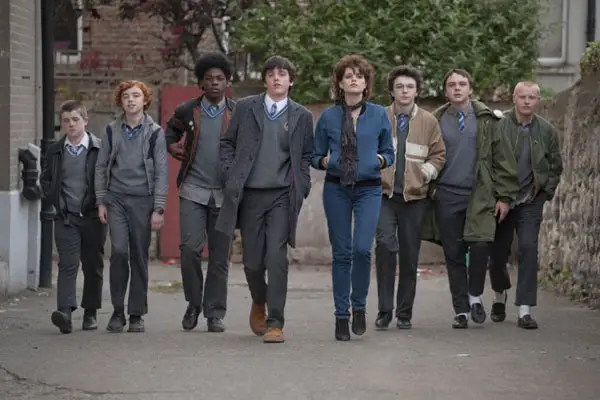 Sing Street is one of those movies that makes you walk out of the theater with a smile on your face. Alongside the great performances and catchy tunes, the film has an energy to it that soaks into you and by the time credits roll, it makes you feel like you too can accomplish those hard to grasp dreams.
Set in 1980's Dublin, 14-year-old Conor (Ferdia Walsh-Peelo) is forced to go to a new school because of his parents' money issues. One day, he spots a beautiful girl, Raphina (Lucy Boynton), and eventually summons up the courage to talk with her. Turns out, she's a wannabe model so, in an effort to hang out with her more, he asks if she wants to star in his band's music video they are planning to shoot. Only problem is, he's not in a band. He's barely got any friends.
And so, like most great artists, it starts with trying to impress a girl.
And like Nick Fury assembling The Avengers, Conor (who's now calling himself Cosmo) goes on a search for his band. He gathers the best – and probably only – musicians at his school and after a lot of practice, they're ready to go. With the help of his mentor and brother, Brendan (the funny Jack Reynor), Cosmo is able to not only navigate his new school but the ups and down of love and music.
Writer/director John Carney's Once is a favorite of mine – both the film and musical of the same name – and here, he's done it again. He's got the 80's music scene down and melds it with the uncertainness of teenage angst and that feeling where at that age anything can be accomplished.
Reynor, a cross between Chris Pratt and Seth Rogen, is terrific as the big brother. He's a guy who had big dreams but life in 80's Dublin has just worn him down, though he'd never say that. He lacks ambition and any sort of drive but that doesn't stop him from pushing Cosmo to pursue his dreams. Plus, he's got one of the best lines in the movie: "No woman can truly love a man who listens to Phil Collins." (It's in the trailer so I didn't spoil anything for you!) Boynton is also great. Raphina hides her sadness well and she's looking to make her life better, sometimes is the worst way possible.
You'll really like this if you're a fan of 80's music but you'll love it if you're a fan of funny, heartwarming stories.