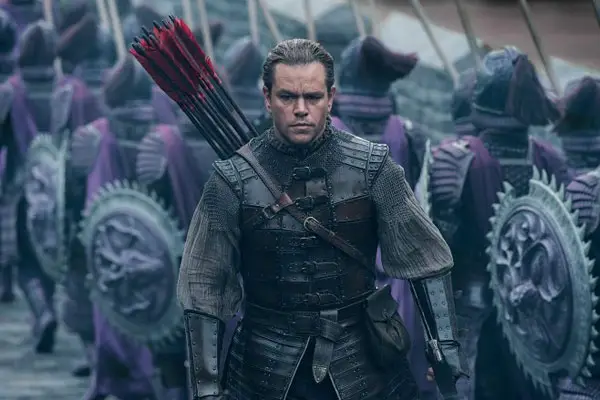 Don't go into The Great Wall expecting anything subtle or thought-provoking because train is miles away. However, if you're looking for an hour and a half of mindless, cheesy fun, then this will surely fit the bill.
Matt Damon stars in director Zhang Yimou's first English-language film about elite Chinese soldiers who must defend themselves against lizard-like monsters called the Tao Tei. They are helped by Damon, a soldier who's got a talent for archery, much like The Avenger's Hawkeye. There's battles, betrayals and colorful outfits as everyone bands together to slay these beasts as they are attacking the iconic wall.
It reminded me of films I used to watch over and over again as a kid, like The Beastmaster and The Sword and the Sorcerer. Monsters and supernatural forces pitted against men and women who pledge to defend one thing or another.
There's plenty of CGI to go around and for the most part, it looks pretty good. There's a sequence towards the end where there are literally thousands of monsters attacking the city and it works so well, it'll make the little kid in you smile.
Does the film have problems? For sure. Damon has a non-descript accent that flows from Irish to British to American. You can never quite peg where he's from and the story never tell you. Willem Dafoe also stars as a guy named Ballard. He's been held at the Chinese fortress for years. Why? Who knows? And even though he's forced to stay there, he's allowed to roam wherever he wants. In fact, there is no reason at all for his character to be in the film. If you took his character out, no one would miss him. That's not to say that he isn't good, because he is…it's just odd that he's there at all.
But again…. Monsters! Thousands of 'em! You can't go wrong!