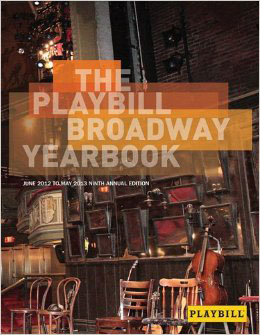 Getting The Playbill Broadway Yearbook every year is a true joy, especially this year's edition (June 2012 through May 2013). I was only able to get to New York once during the season and missed some fantastic shows.
The new edition of helped me both relive those shows and, to be honest, made me a bit sad of the ones I missed (I'm talking to you Death of a Salesman and Lucky Guy!)
The book features new shows like Matilda, Motown: The Musical, Bring It On! and the usual long-running suspects like Wicked, The Book of Mormon and Once (all three wonderful shows!)
The first thing that you'll notice about the book is the ton of pictures it features; both on-stage and off, candid pictures, group pics, headshots and more. Who has the best headshots of the book? That's easy! The past season had some actors of the furry variety – Annie's Sandy , played by Sunny, and his understudy (played by Mikey) and the three cats, Montie, Moo and Vito Vincent from Breakfast at Tiffany's. I have no idea how they got the cats to pose for headshots, I can barely get my cats to stay still for even a small amount of time.
The book also has a timeline of everything that happened on Broadway from that time period; all of the openings and closings, events (Broadway Bares) and more. Towards the back of the book, they've listed the winners of the Tony Awards and every major theatre award (Drama Desk, Drama League, etc) and the back of the book has a huge index of everyone (actors, directors, costume designers and, casting directors) who has appeared in the book.
But perhaps my favorite thing is the Scrapbook. For each show, they have a 'scrapbook' compiled by someone from the show – usually one of the actors from the production – that has tidbits from what happened backstage (or on-stage) from the show. Things like the Most Memorable Ad-lib, Special Backstage Rituals, Favorite Off-Site Hangout, Memorable Directorial Note, Actor Who Performed the Most Roles, Embarrassing Moments and more. These are the pages I spent the most time on and they are worth the price of the book. Some of them are downright hilarious and makes me wish I were in a show right now.
I love everything about this book.
Well, that's not entirely true. There is a part I gladly skipped over. You see, Billy Ray Cyrus made his Broadway debut in Chicago as Billy Flynn. The fact that good ole' Billy Ray was starring in a musical made me want to break out in hives, so those pages went completely untouched. Sorry Chicago peeps!
If you're a Broadway fan or if you have a Broadway lover who needs a gift for the holidays, you can't go wrong with The Playbill Broadway Yearbook