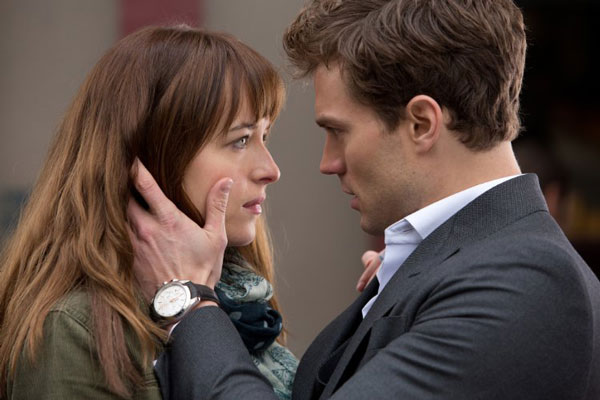 How can a movie about sex be so freaking boring?
Fifty Shades of Grey, the best-selling EL James book that stars Jamie Dornan and Dakota Johnson, is just one long masturbation session that never reaches a climax.
Johnson plays college student – and virgin – Anastasia Steele. When her roommate gets sick, Ana helps her out by going to interview one of the world's youngest billionaires, Christian Grey, for the school newspaper. Grey see's something in her immediately (the way she bites her lips I'm assuming because she does that like 22 times in the film) and the hunt is on. He begins stalking her – I mean, pursuing her – and Ana is definitely flattered and intrigued. Why her though? Of all the women Grey can have, why Ana? I don't know because the movie doesn't really feel like telling you.
After hanging out for a bit, Grey comes clean and tells Ana of his play room and that he loves to dominate him some ladies. She's led a pretty sheltered life but she's curious and intrigued. I'm thinking because he's rich and handsome. If he looked like your neighborhood homeless guy, she'd have headed for the hills.
The two begin spending more time together and they are clearly falling for each other but wait, Grey doesn't want that. Get away Ana. Away! Ok, come back. Sorry. He didn't mean it. He's the world's worst emotional yo-yo and a huge bore.
Oh, and he's kind of a dick. You see, Grey comes from a broken family. His mom was a prostitute and when he was young, his mother's friend made him her submissive. That's why he can be such an ass to Ana. He's got his reasons!
Sure, he's rich, can fly his own helicopter, play the piano and can buy her anything she needs, but beyond that, he's about as interesting as a blank piece of paper. Even Dornan looks bored playing him… when he's got his clothes on.
Scenes are repetitive and they don't advance what little story or plot there is. We know he's got issues… let's move along now.
The sex scenes are fine. Nothing spectacular and actually, pretty tame from what I imagined they'd have on the screen.
Johnson is great. She's the only reason why the film is even remotely interesting and she deserves better. She's got a terrific scene where she's negotiating a contract on where she's to become his submissive that Grey has given her. She plays it light, coy and sexy all at the same time. Why weren't there more scenes like this? Where Johnson could be playful like that? No, we get the brooding and uninteresting Grey.