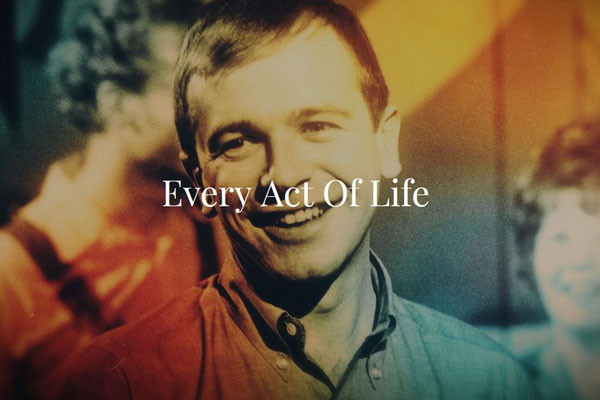 Terrence McNally has had one heck of a life and director Jeff Kaufman manages to showcase that in his wonderful documentary, Every Act of Life.
McNally's grew up in Corpus Christi, Texas, a town that wasn't the most welcoming to a young gay male, and his parents were alcoholic's.  It's no surprise that the first chance he got, he hightailed it out of there and went to college in New York City.
He met John Steinbeck and traveled the world as a tutor to his children, dated Edward Albee and had his first play on Broadway flop, all before he was 24 year old.
McNally was also the first ever openly gay playwright and wrote the first play to feature a gay character on Broadway.
He's had a life and the film chronicles his many highs and many lows. The film weaves through interviews with some of the most prominent people in theater, including Nathan Lane, Joe Mantello, Christine Baranski, F. Murray Abraham, John Benjamin Hickey, Angela Lansbury and Audra McDonald, to paint a portrait of a man that is both loving and at times critical.
Best of all though, the four-time Tony winner is interviewed here and he leaves no stone unturned. He's an open book, oftentimes documenting major heartbreak and loss and you can see the pain as he recalls his past. Like the time Lansbury took him aside and told him that he needed to stop drinking.
And for theatre lovers, he's got some great backstage stories to tell, like meeting Nathan Lane for the first time or the time Abraham stayed in a waiting room for hours and hours until he got a shot at auditioning for one of his plays.
McNally, now 78, is thankfully still going strong, even after a battle with lung cancer. And even better, he's as prolific as ever.
Terrence McNally: Every Act of Life premiered at the Tribeca Film Festival