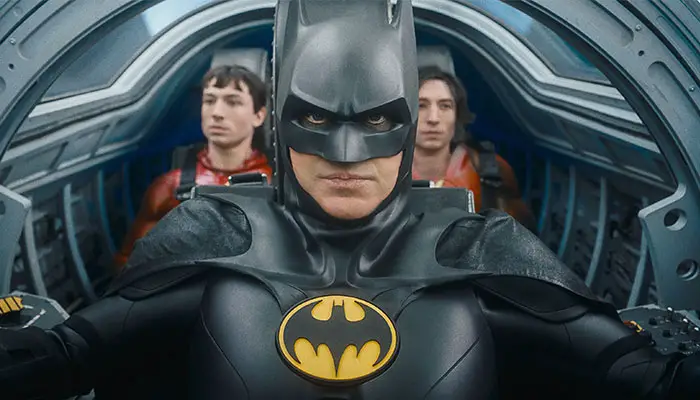 After 13 movies, DC finally has released a top notch superhero movie. Sure, they had to go back 33 years and get some help from Michael Keaton (my preferred Dark Knight) to do it, but hey, desperate times at DC Headquarters called for desperate measures, and it paid off.
Directed by Andy Muschietti and written by Christina Hodson, the film starts with a bang. Barry Allen (Ezra Miller) is late for work, but first… coffee. As the slowest barista ever takes his order, he gets a call from Alfred (Jeremy Irons) asking for help in Gotham City. The rest of the Justice League is occupied with various crises, so it's up to him. He dashes off to find a hospital with an infant ward that's about to come tumbling down to the ground. Muschietti does a great job putting the audience into the eyes of the Flash, slowing down the speedsters' view so we can see exactly what he's witnessing. It's so much fun, watching him save the babies and one lone – and hungry – puppy.
Shortly after, he's with Bruce Wayne (Ben Affleck), telling him he's figured out how to go back in time and how he's thinking about saving his mom, who died from an attack when he was a boy. Bruce warns him of the dangers, but come on, you know what he's going to do.
And when he does, he soon meets his younger – and more annoying self – to hatch a plan to save the world from General Zod (Michael Shannon). They soon recruit this timeline's Bruce Wayne (Keaton) and Kara/Supergirl (Sasha Calle) to help.
Miller's trouble aside, his manic portrayal of Allen/Flash grounds the film. We see everything though his viewpoint; he's funny and might make you tear up in a few spots. Calle brings a sense of pathos, with her tragic past. It's something we haven't seen from a Kryptonian on screen before. I wish there were more of her in the film.
But really, it's Keaton returning as Batman that did it for me. This version of Wayne has morphed into a Howard Hughes-like hermit. Until both versions of Barry show up at Wayne Manor, it seems likely that he hasn't had a visitor or talked with any other person in years. Once he gets back into the Batsuit, things really kick off. He's still got the toys and still got the moves. It's just so much fun to watch.
The film does drag a bit in the middle, when older Barry is trying to explain to younger Barry how he got there and how time travel works. We've seen it all before in films like Back to the Future (which is actually referenced a few times here). Once that is out of the way, things pick back up again, thankfully.
I'm curious to see where things go with this Flash, especially with Miller's troubles but if you're looking to check it out, just sit back and enjoy the ride… or run.