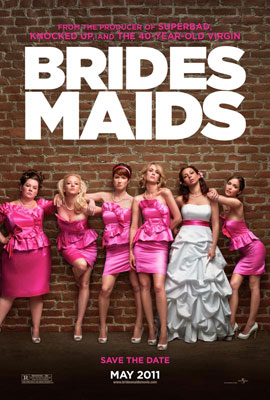 There's been a lot of talk that Bridesmaids was the female version of The Hangover. Well, that's just not true. There are similarities, but you just can't compare them.
What the film is though, is a total Judd Apatow movie. Apatow, the producer, is known for his raunchy comedies with tons of laughs and even more heart and Bridesmaids delivers just that.
Kristen Wiig (in her first leading role) is Annie, a baker who recently lost her dream of owning her own bakery in the recession. Her new job at a jewelry store stinks, her boyfriend/F-buddy (Jon Hamm) is a douche, and her roommates are… just plain odd. The only thing she enjoy's is hanging out with her best friend, Lil (Maya Rudolph). When Lil gets engaged and asks Annie to  her to be maid of honor, she is more than ready to plan something memorable for her and the rest of the bridesmaids, played by Melissa McCarthy (Mike & Molly), Ellie Kemper (The Office) and Wendi McLendon-Covey (Reno 911!). One glitch: Lil's newest "friend" Helen, Rose Byrne (Damages and the upcoming X-Men: First Class), wants nothing more than to unseat Annie as maid of honor.
The movie is about friendships and relationships and each character has the chance to add their own bit of realism to their part.
Everyone in the film is great, particularly McCarthy, who plays the sister to the groom. Blunt and gross, she's the funniest of the group by a mile and it's great to see her break out of the characters she's been playing on TV for the past few years. Also great was Hamm who plays a fantastic douchebag; I'd love to see him play more characters like this.
Someone I'd never seen or heard of before, Chris O'Dowd (I know, I know, he's on the BBC's The IT Crowd) plays Wiig's potential love interest and the guy is just fantastic in the role. I'll definitely keep an eye out on him and Netflix some of his work.
As much as I liked the film, there are some things that I took issue with. First, it's about a half hour too long (it's running time is about 2 hours). Also, it felt like some of the scenes went on a bit longer than they should have. I know a lot of the film was improved and it had some of those meandering moments you occasionally get with improved scenes. Finally, I wish that Ellie Kemper and Wendi McClendon-Covey had more screen time. They're both great comedic actresses and the parts they were in were funny, I just think they were under-used.
The women in the audience clapped at the end, so guys, be prepared to see it this weekend. But that's a good thing.