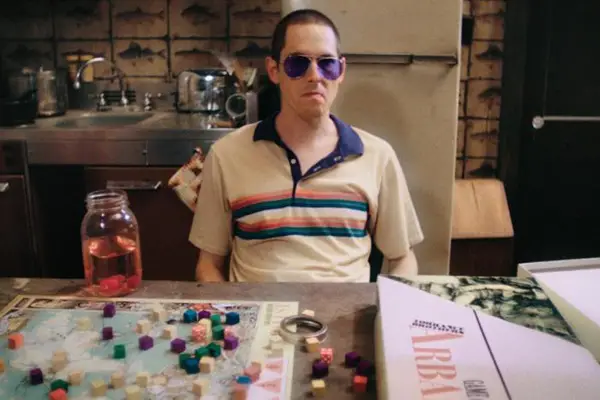 Cinematographer Adam Pinney makes his directorial debut with the strange and sometimes intriguing, The Arbalest.
We first meet Foster Kalt (Mike Brune) in a New York City Hotel room. It's 1968 and he's in the city hoping to sell his invention, a contraption that automatically inflates a balloon by turning oxygen into helium, at a toy convention. The young Kalt has ended up in the room with two other conventioneers, Paul (Matthew Stanton) and Sylvia (Tallie Medel). The two aren't impressed with Kalt's invention, though as an audience member, it's pretty cool. The three spend the night partying it up and Kalt starts to become enamored with Sylvia. Later in the night though, Paul, the older one of the group, drops dead.
The quick thinking Sylvia hatches a plan for both of them to take credit for Paul's toy, a cube that looks like the Rubik's Cube we all used to have as kids. Renamed the Kalt Cube, he goes on to be one of the world's most famous inventors.
Flash forward 10 years later, he's now a recluse who's taken a vow of silence and obsessed with Sylvia. But, he's promised an exclusive interview with a news magazine to show off his latest invention.
In the film, there's really three Foster Kalts: the young upstart in the hotel, the middle Kalt who's lost everything and is spiraling into drugs and alcohol and the older bearded Kalt who's about to reveal his finest (and deadliest) weapon. Brune is especially terrific as the younger Kalt and he looks a bit young to be sporting a beard but he's got some really nice moments. It's his spiraling, drug addled Kalt that's a bit messy. He seems to be channeling the spirit of Hunter S. Thompson and it's just a bit off. That being said, props to him for creating this guy. It must have been a huge challenge and he was definitely in the ballpark, acting wise.
The film's beginning works really well. It's interesting, the dialogue is crisp and you really have no idea where the story is going to take you. The third act is nice as well with a surprising twist that you won't see coming. It's the second act where Kalt is alone and in that Hunter S. Thompson mode. With all the momentum we get from the first part, it all but stops the films momentum. Stick with it though and you'll be in for an unpredictable ending that'll make the movie worth your time.
For more, check out: http://thearbalestmovie.tumblr.com/