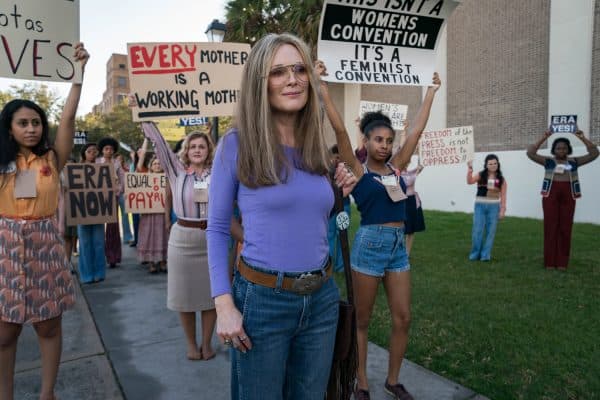 Based on the book, My Life on the Road, The Glorias takes a look at the like of feminist Gloria Steinem. And what a life it's been.
She grew up in a family of vagabonds, due in part to her father. That openness to live life and explore pushed her to travel far and wide, experience a life that most of us can only dream of. It taught her about the world and fairness, fairness of how women the world over were (are?) treated. It's fair to say that without her, the women's movement wouldn't be where it is today.
Gloria is played by four different actresses from various stages of her life – Ryan Kiera Armstrong as the youngest version, Lulu Wilson is the teen, Alicia Vikander the young adult and Julianne Moore is the adult. It's almost eerie to see (and hear) both Vikander and Moore talk and act as Steinhem. Both performances are so in sync. I wonder if they spent any time together creating their performances. They… actually all portrayals are wonderful.
Steinhem's life was shaped by her father, played by Timothy Hutton. He pops in and out of her life like a version of Oklahoma's Ali Hakim. Always selling something, giving his life a rosy perspective all while wearing clothes of a man whose life isn't so. Yet, through all of that, he's always encouraging her to be who she is, go with her passion and heart. It's a tricky role and Hutton is great.
Bette Midler makes an appearance as Bella Abzug and you might wish there was a film in the works with her alone. And the always wonderful Janelle Monae shows up as Dorothy Pitman Hughes.
With a screenplay by Sarah Ruhl and Julie Taymor, who also directs, the film is a bit spotty at times. Taymor has shown brilliance as a director, particularly for her work in theatre. It's always innovative and unique. The Lion King, which she won a Tony Award for Best Direction of a Musical, is a marvel to watch. Heck, even the widely panned Spider-Man: Turn Off the Dark was a lovely spectacle to behold. Her film work, while not as recognized as theatre, is good as well. Frida and Across the Universe come to mind. This film does have sparks of greatness but this is mostly because of the terrific cast. There's one scene where Moore's Steinhem is running in place while images are rushing past her. It's just an odd thing to have, considering most of the film has been fairly conventional before then. It just fully takes you out of the film, it's so strange.