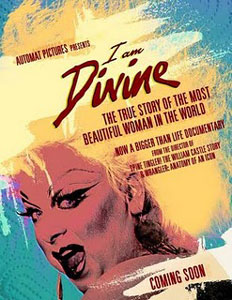 Growing up in Maryland and in the shadow of Baltimore, as an actor, I couldn't help but love
John Waters
and
Divine
.
By being true to themselves and never compromising, they both became extremely successful doing what they loved on their own terms and in their own backyard. They made films – Multiple Maniacs, Female Trouble and Pink Flamingos – that my parents, heck every parent, was disgusted by.
I loved everything about them.
And I loved everything about the absolutely wonderful new documentary, I Am Divine, which just premiered at SXSW. The doc tells the story of Harris Glenn Milstead, better known as Divine, from his time as a Baltimore schoolboy to meeting Waters and his rise to stardom.
Director Jeffrey Schwarz interviewed the family, friends and the Waters' Dreamland troupe (Mink Stole, Casting Director Pat Moran among others) to not only bring Divine's story but the story of underground cinema in the 70's and the rise of gay culture in the mainstream (thanks to Divine, of course).
Stories are told about his generosity – particularly with money he didn't have – and how, as a young man, he once passed a lie detector test after a run-in with the cops that will just make you love the guy even more.
He worked hard and Divine's rise to fame didn't begin and end with Waters. He starred in hit off-Broadway shows and had a big recording career, topping the charts with several of his records. "He did techno music before anybody did," John Waters says in the film.
Weight was always a problem in his life and as he became more famous, it was escalating rapidly. The stress of not knowing when his next acting job was coming, circling the world as a disco act all lead him to eat.
After the huge success of Hairspray, he wanted to change things up. Truth be told, Divine was a character and Milstead was desperately trying to parlay that into working in TV and Film as a man. He saw himself as a character actor and was eager to take that next step in his career.
Finally, when he did get that chance, it would never happen. Divine died the morning he was to report on set for FOX's hit show, Married with Children. Playing a man.
I remember the day he died. It was sad then and it's still sad.
Schwarz's doc is a tribute to Divine, his work and his life and it shouldn't be missed.