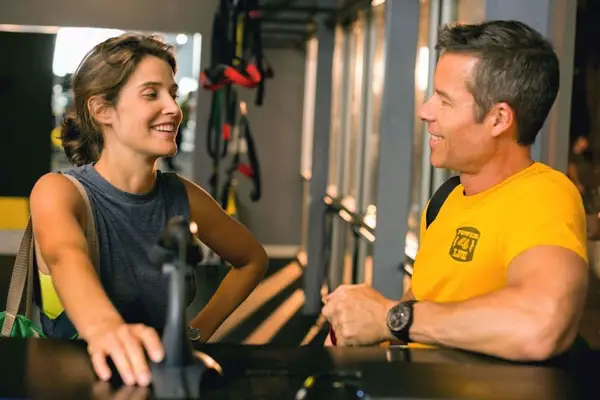 Results premiered at this year's SXSW and I was only able to catch half of it before I had to run to an interview. I really liked what I had seen, which is good because I was scheduled for an interview with writer/director Andrew Bujalski and co-star Constance Zimmer later in the week.
I finally got a chance to watch the full film and my suspicions were correct: It was damn good.
Results stars Kevin Corrigan as a newly divorced guy named Danny. He's miserable about life but thankfully, he's got a ton of money since that a long-lost relative just left him in their will. And even better, he was got the money right after he signed divorce papers. But still, money can't solve misery.
He decides he wants to get in shape so he visits his local gym, where he meets the owner Trevor (Guy Pearce) and trainer Kat (Cobie Smulders). He eventually works his way into their lives, partnering up on a business venture, getting life lessons and even becoming a nuisance.
Corrigan is the kind of actor where, when you're watching him, wonder, "Why isn't he in everything?" He's got a natural way about him that is so realistic. In playing Danny, you never really know what he's thinking until it comes out of his mouth. And good or bad, you want him to come out on top. Danny is the ultimate in lazy; he posts an ad on Craigslist asking for someone to come over and setup his TV for $200 and when he hires Kat to train him, he wants her to come to his newly rented house to work out there. He actually sounds like me if I were rich.
And yeah, he's unhappy and he's fallen into the myth that in-shape people have great lives. We think these people with hot bodies have everything going for them. And when you look at Kat and Trevor, it does look like that but in fact, they're just as screwed up as the rest of us. Except that they have, you know, the best of the best bodies.
Kat and Trevor, they've clearly got their own issues to deal with. Trevor wants to be known for more than his one gym, he wants to build an empire like his idol, Grigory (Anthony Michael Hall in a fun role). Kat also wants to be more than a trainer. What will happen when she gets older? She can't do this forever. Everyone is just struggling to get by.
Both Smulders and Pearce are great and the no frills way Bujalski directs – incredibly natural and real – is a perfect fit.