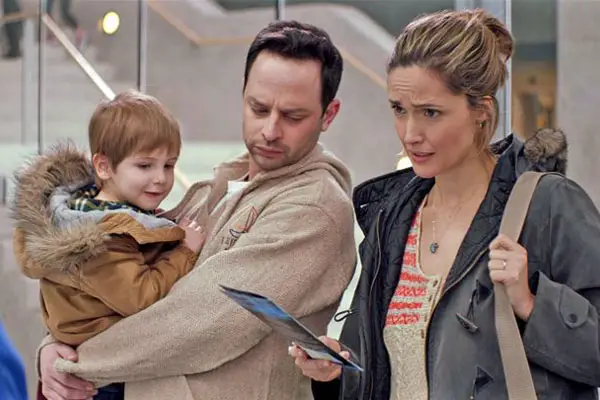 Nick Kroll plays Jake, a self-absorbed entrepreneur who, on the night that his company is about to launch, finds he's made a huge mistake in getting his product manufactured. Overnight, his company is gone and so is his life. His girlfriend dumps him; his friends and investors hate him, demanding their money back. Some even want him dead. Good times, right?
So, with his life in shambles, he retreats to his boyhood home in New Rochelle where his pregnant sister (Rose Byrne), brother-in-law (Bobby Cannavale) and 3-year-old nephew now live. Asking to stay a couple months, the couple make him a deal: he can stay only if he becomes the youngsters manny.
There's nothing new in Adult Beginners that you haven't seen before. It doesn't break any new ground in upping this retreaded story of a man going to back home to figure out his life. But, that doesn't really matter because the way that director Ross Katz (nominated for an Academy Award as a producer for Lost in Translation) unfolds the story, it's quite charming. It takes it's time and there's no real sense of urgency. He knows the story he wants to tell and he's not afraid to go at his own pace. I really came to like these characters written by Liz Flahive and Jeff Cox.
Kroll is a master at playing smarmy jackasses and except for the opening scene, he plays it straight-laced here. In his first starring role in a film, he does a bang up job. He doesn't rely on any of the gimmicks he's used in his previous characters and I really enjoyed what he does here. He and Byrne are a wonderful match as brother and sister, especially in the final couple of scenes of the film.
Cannavale could play this role in his sleep. But, as usual, he's pretty damn great. We find out his character has been seeing a woman behind Byrne's back, yet it's hard to hate him. They're such a good pair that we want them to work things out. I'd imagine they are such a good pair because the two are dating in real life. Cannavale, by the way, has a good one-two knockout with Beginners and his role in the recent film, Danny Collins opposite Al Pacino.
The film, which also has some nice cameos from Jane Krakowski, Joel McHale, Bobby Moynihan, Mike Birbiglia and Josh Charles, had its US premiere at SXSW and I'm bummed I wasn;t able to catch it while I was there. After watching it, I'm bummed because this is the perfect film to see at a festival; small, insular and totally character driven. If you're a fan of Kroll's work, you should definitely check it out.
Adult Beginners is now in theaters and VOD