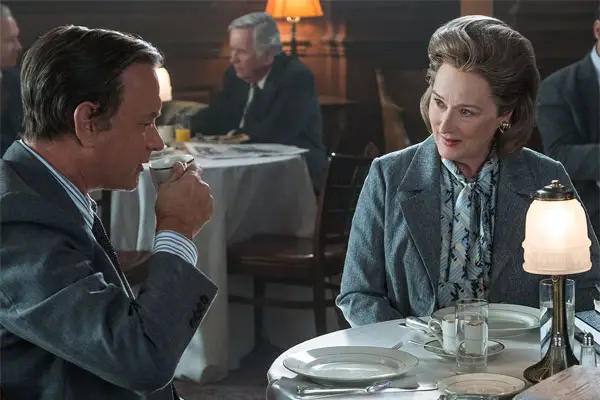 Save us, Steven Spielberg. You're our only hope.
We're living in a time where the leader of our country, along with his followers, are brandishing media outlets like the New York Times, Washington Post and CNN as fake news. It's tough for some people to accept fact as fact, especially when you don't want those facts to be true. So, yelling fake news when they hear something they don't like seems to be their mantra nowadays.
Back in the early 70s, America was going through a period just like this. While not exactly as severe as what's going on today, it did have the potential to upend our democracy going forward.
America was in the throes of the Vietnam War with no end in sight. The government kept telling the American people that they had a clear plan on winning the war when, in fact, they didn't. And they knew there was no end. There were thousands of documents, what we now know as the Pentagon Papers, that the New York Times first published. The government sued the Times, who backed off. But, thanks to the courage of then editor Ben Bradley (Tom Hanks) and owner Katherine Graham (Meryl Streep), the Post published these documents, all while being threatened by the Nixon Administration. Both Bradley and Graham are part of the DC establishment. They're friends with politicians and the wives of people running that town and America. Bradley was also good friends with JFK and Jackie Onassis. So, it's a surprise to the establishment when the hometown paper begins to investigate these Pentagon Papers. But when push comes to shove, they decide country over party, or in this case, country over friends.
That's the story of Spielberg's fantastic new movie, The Post.
The paper at the time was clearly seen as a home town paper, not the national one that it is now. Graham, who took over the paper after her husband's death, took the reins and, in that one in brave moment in time, catapulted the paper it into what it is today.
You won't be surprised to hear that both Hanks and Streep are fantastic and you can only wonder why it took so damn long to get these two together in a movie. Thankfully, these two have so many scenes together and it's pure joy to watch these two work off of each other, volleying back and forth.
Spielberg's also assembled one of the best casts of the year and it's character actor heaven: Sarah Paulson, Bob Odenkirk, Tracy Letts, Bradley Whitford, Bruce Greenwood, Carrie Coon, Matthew Rhys, Alison Brie, Jesse Plemons, David Cross, Pat Healy, Michael Stuhlbarg, Jessie Mueller and Stark Sands. Each actor helps bring to life the era and the energy of the posts newsroom.
Spielberg never lays it on thick here and he might be the only director working today who could have taken this story, that is sometimes full of hard to comprehend facts and terminology, and make it exciting and taught, leaving you on the edge of your seat.