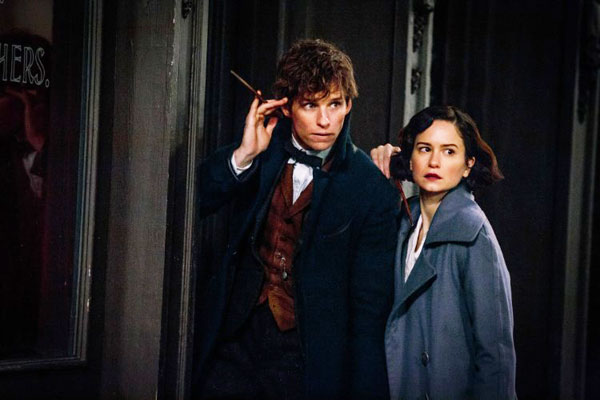 Fantastic Beasts and Where to Find Them is aimed point-blank for those Harry Potter fans that grew up on the incredibly successful series. They're older, hopefully a little wiser and ready to delve back into that world. A world that's going to bring us a total of 5 new films.
Set in 1926, Newt Scamander (Eddie Redmayne) has just arrived in New York City. He's been traveling around the world searching for and a rescuing magical creatures and NYC is one of his last stops. Things quickly turn sour when Jacob (Dan Fogler), a No-Maj (that's the American term for Muggle), accidentally takes the wrong briefcase and creatures escape, wreaking havoc on old-school New York.
We also discover that, like in the Harry Potter films, there is a community of wizards and witches in America. England's not so special now, are they? Oh, and we learn about the series new big bad, Grindelwald.
Beasts feels like the first chapters of a book, all setup. That's not necessarily a bad thing but it takes a while for the film to get going. We're introduced to Tina (Katherine Waterston) a former Auror who is trying to get her job back, and her mind-reading sister, Queenie (Alison Sudol), Graves (Colin Farrell), an Auror and the Director of Magical Security. Is the story just Newt trying to find his magical creatures? It takes a while to find out where it's going.
That's not to say that while we're getting there, it's not fun because it is. Fogler has some very funny moments, especially after he meets Queenie and Redmayne has a nice, light touch as Newt.
What was missed was the wide-eyed enthusiasm of the first Harry Potter film. Thinking back to Harry getting to Hogwarts, that big smile he had discovering that this world really exists. The first time he uses magic and meets Hagrid. Those moments of awe were missing.
The movie does win you over, especially by the end. Director David Yates sets up an ending that will leave you wishing part 2 were right around the corner.