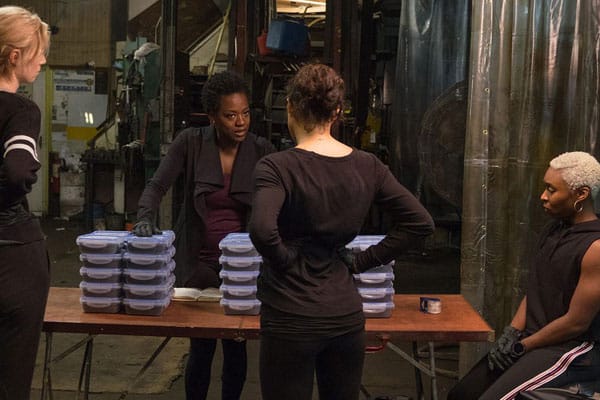 San Diego Film Festival 2018
Viola Davis can really do no wrong. From Doubt to Fences (both on Broadway and the film version) and everything in between, she's always damn near perfect. And with her new film, Steve McQueen's Widows, it grows that list even more.
Davis stars as Veronica, the wife of career criminal, Harry Rawlings (Liam Neeson). When he and his team plan a heist that goes wrong, they get caught in a massive gun fight where they get blowed up real good, which leaves the women – the widows – on their own. Which is now especially troublesome, because Rawlings owed one of the local mobsters, played by Brian Tyree Henry and Daniel Kaluuya, a ton of money. And he wants it back, ASAP. Veronica comes up with an idea to get the money back (and then some), but it will take all of the widows – Linda (Michelle Rodriguez) and Deb (Elizabeth Debicki) with an assist from hairdresser/badass, Belle (Cynthia Erivo)  – coming together to get the job done.
But that won't be easy, because local politician, Jack Mulligan (Colin Farrell) and his father (Robert Duvall) also stand in the way. Apparently, ole Harry had a lot of frenemies.
Written by McQueen and Gillian Flynn, the film gives Davis a taut, powerhouse of a role and gives Rodriguez a chance to show a softer side, which usually doesn't happen in most of her films. It also introduces polish actress Debicki, who's terrific, to a whole new audience.
After directing Hunger, Shame and 12 Years a Slave, this is McQueen's most commercial project yet. It's slick and looks great. There's a really impressive scene where Farrell gets in a limo from a run-down section of Chicago and the camera follows it several blocks away to his house in a swanky part of town. It's all one shot and takes a bit of screen time, but it's worth it, explaining all you need to know about him and the city that he wants to represent.
There are two strange things though. Jon Bernthal (The Walking Dead, Punisher) appears in the film but no more than 5 Seconds. You're waiting around for him to show back up in the film but –  no spoilers here – he never does. Why wouldn't McQueen or the editor just totally remove him from the film? And there's also a scene where Rodriguez meets up with a man who just lost his wife, trying to get information that is pretty integral to their whole plan. At one point, they start to get a bit intimate. The whole scene felt out of place and was never referred to again.
As thrillers go, this one is pretty impressive and fans of Viola Davis will not be disappointed.