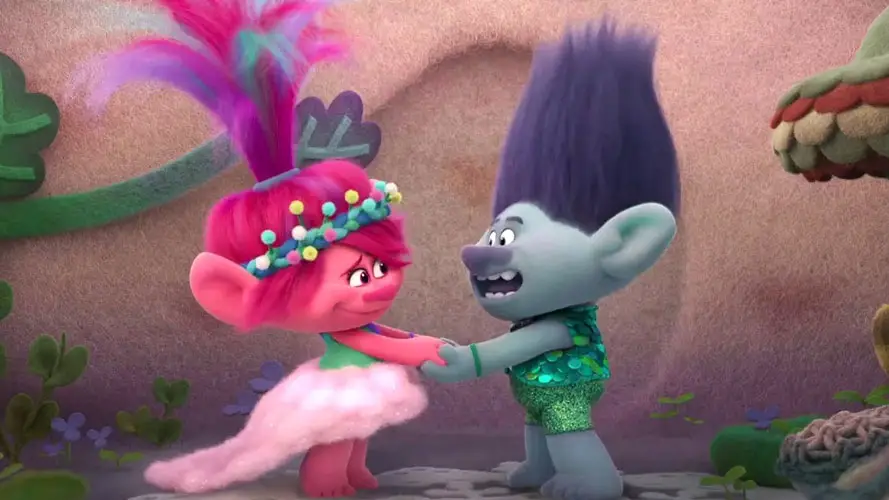 "When's the new Trolls movie coming out, daddy? I really want to see it." That's what I've been hearing from my daughters for the past couple months since the first time they saw the trailer. It makes sense because they loved the first two and have seen both at least 20 times each.
In Poppy (Anna Kendrick) and Branch's (Justin Timberlake) latest adventure, Trolls Band Together, the pair find themselves (and Keenan Thompson's Tiny Diamond) on a race to rescue Branch's brothers who, as it turns out, were in her favorite boy band, BroZone back when she was a kid. After a disastrous performance, the boys – Floyd (Troye Sivan), John Dory (Eric Andre), Spruce (Daveed Diggs) and Clay (Kid Cudi) – went their separate ways and haven't seen each other since.
When they find out that they've all been kidnapped for their voices by twin pop-stars, Velvet (Amy Schumer) and Veneer (Andrew Rannels), the trio, along with new friends, including  Viva (Camila Cabello), risk everything to save them.
These films have always been a lot of fun, including this one. The story is solid and is peppered throughout with lots of jokes for the adults in the room. I know I laughed more than my fair share. It looks great, tons of colors that make everything pop and the songs, mostly remixes, are fun and catchy. And expect a lot of boy band jokes throughout.
Schumer and Rannels' characters reminded me of Sharpay and Ryan from the High School Musical movies (don't ask me how I know that) and Rannells is hilarious with his quips and asides.
Directed by Walt Dohrn from a screenplay by Elizabeth Tippet, it's a quick and zippy ride that you and your family will absolutely get a kick out of. But why take it from me? Take it from the experts, my two daughters:
Sadie (4): I liked when Viva was sad because Poppy left and I loved Baby Branch.
Ella (6): My favorite part was when  Viva came back to help Poppy and then did the friendship harmony to help get the brothers back. The funniest part was when Branch said that he was had the lightning bolt underwear and they used it to sniff where the brothers were because they were stinky. And I loved Viva.