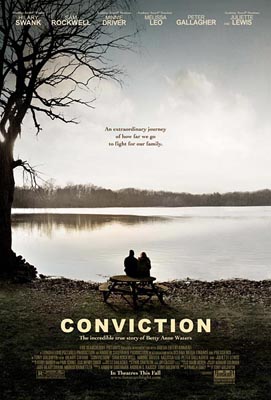 Conviction tells the true story of Betty Anne Waters (Hilary Swank) and her brother Kenny (Sam Rockwell). When a diner waitress is found stabbed to death in her trailer home, Kenny – the local troublemaker – is charged with murder, convicted and sentenced to life in prison. Waters, a single mother, spends the next 18 years of her life becoming a lawyer in order to free her brother.
Minnie Driver plays Betty Anne's friend and fellow law student, Abra, who help's discover the truth about Kenny's mishandled case at the hands of a corrupt cop played by Melissa Leo.
While this is an amazing true-life story, I didn't like it as much as I had hoped. The whole story seemed a little slow to me. While I did care about the characters and the outcome, I wanted it to happen sooner. Part of it may have been the cheesy flashback scenes that told the story of Betty and Kenny as kids. It's an attempt to show how close they were as children so you can understand why Betty spends so many years proving that her brother isn't a murderer. But… I didn't need so many of these scenes. I got it after the first flashback.
Expertly acted on all fronts, I'd say see this film for Sam Rockwell's performance alone.  At the beginning of the film, there are times where you have no idea if he's guilty or innocent. He's perfect in the part. Hilary Swank and Melissa Leo are also in top form but this is Rockwell's show.
Director: Tony Goldwyn
Cast: Hilary Swank, Sam Rockwell, Minnie Driver, Melissa Leo, Peter Gallagher, Juliette Lewis
Writers: Pamela Gray