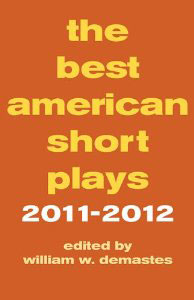 What book did I bring with me to the pool this past weekend? The Best American Short Plays 2011-2012. Not your typical summertime reading by the pool, I know. But with playwrights like John Guare, Neil LaBute and A.R. Gurney included in the anthology, I have to say it was a great day by the water.
All of the plays are very quick reads – they're short plays, duh! – and most are pretty darn good. My favorites of the bunch were The Wager by Neil LaBute and Bulgarian Rhapsody by Rich Orloff. LaBute's The Wager is about a couple on their way home from a drunken date. When they encounter a disabled homeless man, well, you won't believe what happens next…. both shocking and thankfully, humorous. Orloff's Bulgarian Rhapsody is by far the funniest play in the book. It's about an American who goes to visit his relatives in Bulgaria and the jokes just fly off the page. It's nothing high-brow but more like laughter coming from your gut. Very funny stuff!
Another one I would consider in my top plays was Angela C. Hall's Wife Shop. It's set in a store called Bumpy's Used Wife Shop run by, who else? A guy named Bumby. Bumpy has been running the shop for years now and he's the go-to guy for either selling your animatronic wife or buying one. If you're in the market, of course.
And if you're looking a monologue, there are some very nice one to choose from. Andrea Sloane Pink's Warner Bros., in particular, has some choice material if you're a female in your 20's.
One thing though, I'm not a big fan when playwrights name their characters 'A' and 'B' or 'Actor 1' and 'Actor 2'. When it's in the printed form, I just can't connect to the material. I have to keep going back and forth to see who did what in the script. I know I'm nitpicking but but is it really so hard to name your characters? Thankfully, it only happens two times here.
The Best American Short Plays 2011-2012 was compiled and edited by William W. Demastes.