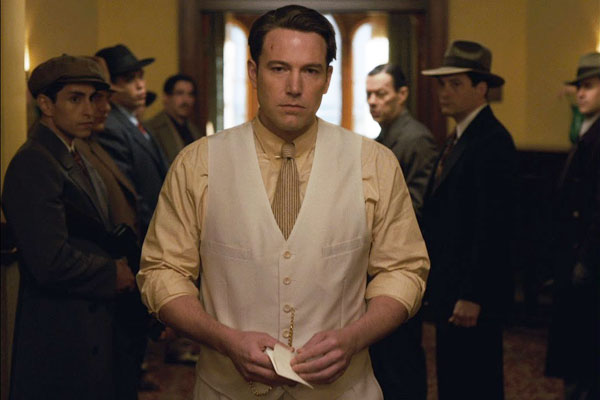 As a director, Ben Affleck has a great track record. Gone Baby Gone, The Town and Argo are terrific films that shows he's got a gift for storytelling. In his latest offering, Live By Night, that attribute is still there but it's more muddled and
Affleck, who also wrote the screenplay based on Dennis Lehane's novel of the same name, stars as Joe Coughlin, a WWI vet who has since fallen into a life of crime. He's running capers and with the help of Emma (Sienna Miller), the woman he's in love with, holding up fellow gangsters. Trouble is, Emma is the gal of a mob boss Albert White (Robert Glenister) and when it's found out they're running around behind his back, Joe gets the hell beaten out of him. Once he gets out of the hospital, he starts to work for White's rival Maso Pescatore (Remo Girone) and is quickly sent to Tampa's Ybor City to run his bootlegging operation. Joe builds the operation into a powerhouse but the life he left behind in Boston soon catches up with him.
This feels like it's Affleck's version of The Godfather but there are so many things being thrown at you at once it's difficult to go from one thread to the next. The film is sprawling and huge, with so many characters and stories that for the first 40 minutes or so, it's all plot and backstory. There are also scenes that are so short, you barely have time to process them. Maybe he stayed too close to the original book when he could have streamlined it a bit more? That's a big possibility.
That's not to say the film doesn't have its good points and moments. Chris Messina plays Joe's loyal right hand man, Dion, and he's absolutely terrific. He's almost unrecognizable with his pot-belly, bad teeth, slouched over posture and a weasel-like voice. Brendan Gleeson shows up for a bit as Joe's police chief father. He's great as usual but once he leaves the story, you feel a bit short-changed. The rest of the cast – Elle Fanning, Sienna Miller, Zoe Saldana and Chris Cooper – add to Affleck's always good casting choices. Affleck as Joe, the gangster with a heart and moral code, holds the film together nicely but he's the least interesting character in the film. That's no fault of his own though. Character parts in films like these are always the juiciest parts.
The film is entertaining enough but given Affleck's former directing success, we unfortunately (and perhaps mistakenly) expect more.