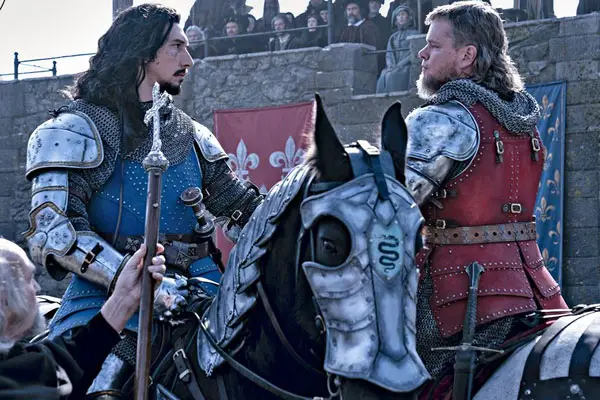 After watching the actual last duel in director Ridley Scott's latest epic, The Last Duel, it should be mandated in every studio contract that he be brought in as a consultant on all fight scenes that have jousting and swordplay. It's an incredibly choreographed battle that is the cherry on top of this gritty, gory and worthy film.
Written by Matt Damon, Ben Affleck and Nicole Holofcener, it's the apparent true story of Jean de Carrouges (Damon, sporting a mullet, which oddly doesn't take away from his performance), a brute of a warrior who, early on, meets Jacques Le Gris (Adam Driver, great as usual) on the battlefield. The two strike up a friendship but over the years, their two paths diverge. .
de Carrouges, through sheer determination, almost wills his way into marrying Marguerite (a wonderful Jodie Comer), a beautiful woman with an even prettier dowry of land that he can now take as his own. Le Gris meanwhile becomes a squire to Count Pierre d'Alençon (Affleck), a playboy with a penchant for women, booze and power. When d'Alençon blithely gives Le Gris land meant for de Carrouges, a years-long feud begins between the two friends.
But with a looming war on the horizon, the two begrudgingly set their differences aside in a face-to-face meeting. There, Le Gris meets Marguerite, strikes up a flirty dialogue and is immediately smitten. As de Carrouges is away fighting for the king, Le Gris forces himself upon Marguerite and it soon becomes a story of did he, didn't he, he said, she said.
The film is told in three parts, from each character's point of view or their "truths". de Carrouges' is first, as we see his reality and why he's so affected by perceived slights from Le Gris and d'Alençon. That's followed by Le Gris' point of view and how he went from warrior to a man in the upper echelons of power. Finally, we see the real truth from Marguerite's point of view, perhaps the most detailed – and damning – of the three.
The whole cast is really terrific, particularly Affleck and Comer. Every time he's on screen, he lifts the scene with this wry smile and gleam in his eye. He looks like he's having a blast. Comer takes a role that easily could have been a typical wife/female part in a male-dominated film and makes it so much more. She adds depth and nuance. She's easily the smartest one in the room at all times and knows how to use that to her advantage.
The film does run a bit long (2 hours and 33 minutes) but it's told in such a way that I'm not quite sure what could have been cut. The locations and cinematography only add to the splendor of it all.