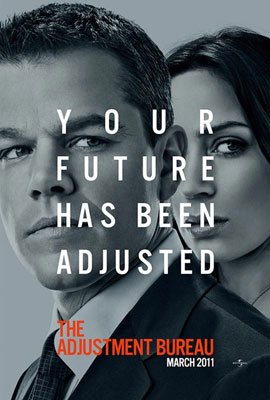 Free will? Fate? True love?
These are all questions that are swirling about in The Adjustment Bureau.
Matt Damon plays David Norris, a popular politician on the verge of becoming the youngest congressman ever to be elected Senator of New York. When a picture of him mooning his old college buddies appears on the front page of the paper, his run for office is quickly over.  As he practices his concession speech, a brief meeting with Elise (Emily Blunt) changes his outlook and therefore changes his speech. The speech is a hit and before long he's back in the political arena.
But…he can't quite shake the thought of Elise.
They meet by chance several more times but after each meeting, through various events, they never seem to be able get back in touch with each other.
And this is where the Adjustment Bureau comes into the story.
They are an "organization" whose job it is to make 'fate' and 'free will' seem like 'fate' and 'free will'. If something happens that isn't according to plan, well, don't worry because the Adjustment Bureau is always around to make sure you get back on track.
Are David and Elsie supposed to be together? Nope. Just ask the Bureau.
I won't go into any more detail because I don't want to give the story away but I was really happy by how much I liked this movie. At times, it shows the comedic side of Damon we've really only been able to see in the Ocean's Eleven movies and that's one of the reason's this worked for me. It has charm, action and yes, romance. And I am so not a romance movie kind of guy.
Emily Blunt is wonderful as Elise; she can convey warmth, love, exasperation and astonishment all in one look.  John Slattery, Anthony Mackie and Terrence Stamp (Zod!) all look great in fedora's and each bring dimensions to their characters that are enjoyable to watch.
Yeah, see this movie!
Director: George Nolfi

Cast: Matt Damon, Emily Blunt, Anthony Mackie, John Slattery, Shohreh Aghdashloo, Michael Kelly, Terence Stamp