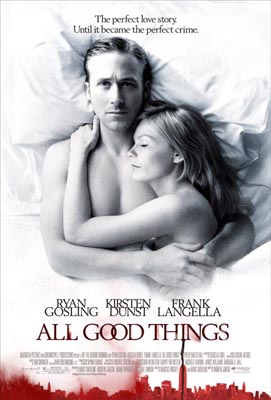 Wow, this movie is bad. Like, "this shouldn't suck because there's so much great talent, but it does" bad.
Inspired by true events, this is the story of Robert Marks (Ryan Gosling), who comes from a wealthy New York real-estate family. He marries a sweet girl, Katie (Kristen Dunst) and the two move out from under his father's thumb to start a health food store (named All Good Things) in Vermont. Before long, his father (Frank Langella) comes calling and asks him – or is it forces – to come back and work in the family business. Before long, we see David begin to unravel; from the family pressure or from his secret of watching his mother commit suicide in front of him? Probably both.
It doesn't matter the reason because by the time this happens, I didn't care.
Anyway, Katie soon disappears and David runs and lives life as a woman (yup, he sure does) where he eventually leaves several more bodies behind.
The film is almost like a bad Lifetime movie but with better acting; it was fantastic. Everyone put in top-notch performances but you can have the worlds best ingredients but still over cook the  souffle', you know?
The supporting cast included the excellent Lily Rabe as David's long time friend and confidant. And it was a nice change to see Kristen Wiig and Nick Offerman, normally in comedic parts, turn in dramatic performances. Especially, Offerman who completely surprised me as Katie's brother.
I couldn't wait for this to end. It felt like it was all set-up for at least the first hour of the movie. I swear, nothing happened for an hour…nothing. And when it finally did, it's like, that all?
Director: Andrew Jarecki
Cast: Ryan Gosling, Kirsten Dunst, Frank Langella, Lily Rabe, Philip Baker Hall, Nick Offerman, Kristen Wiig
Writers: Marcus Hinchey, Marc Smerling