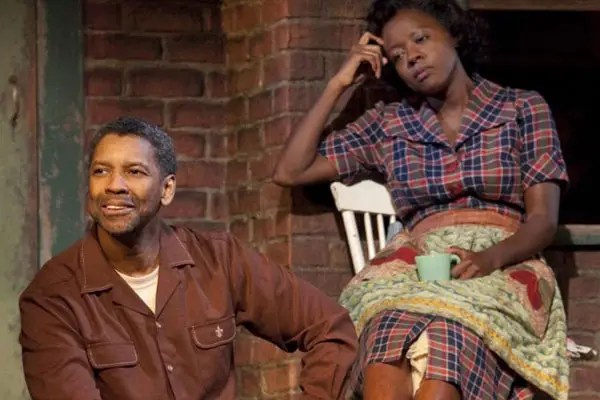 Having seen the Broadway production of Fences, I was curious how the play would translate to film. Would the intensity and intimacy that live theatre has translate to the filmed version? Would Denzel Washington's and Viola Davis' performances be as good as they were on stage? Would I still have to deal with that guys big head in the seat in front of me?
Yes, big yes and, thankfully, no.
With a lot of plays translated to film, you can definitely feel a bit of claustrophobia. The recent filmed version of Yasmina Reza's play, God of Carnage, suffered from that. It was set in one room and director Roman Polanski didn't bother to open up the world. It made it flat and boring and by the time it ended, it felt like you were released from detention. Not so with Fences. The play itself is set in the backyard of the Troy Maxon's family home. On stage, it feels open and airy and Washington, as director, has opened up the play to make it feel exactly like that on-screen. He's got a living, breathing neighborhood to explore and it makes the film feel more vibrant and alive.
Washington stars as Troy Maxon, a former Negro League player who's now working as a garbage man alongside his long-time friend Bono (the great Stephen Henderson). He lives with his wife Rose (Davis) and son Cory (Jovan Adepo). His younger brother Gabriel (Mykelti Williamson), an ex-soldier who got a head injury, has just moved out on his own and has taken his monthly disability payments with him. Money is tight now and it doesn't help that his oldest son, Lyons (Russell Hornsby) has just come around asking to borrow some money.
The family's life begins to unravel with a one-two punch of Troy wanting Cory to turn down his only shot at college (to get a job working with his hands) and him dropping a devastating bombshell (which I won't spoil) on Rose.
Troy's a fast-talking man of with a big personality. He's got stories that seem to get bigger with every re-telling and his wife, Rose and Bono seem never to tire of them. Washington is just fantastic weaving these yarns and he's even more gripping when he flashes his anger. Davis matches him here. She's the opposite of Troy, quiet and stoic. She loves her husband and his bombast but also knows that, at times, it walking on egg shells with him. There's no feeling that these two have performed these roles hundreds of times, it's fresh and alive and wonderful.
Directed with confidence by Washington from a script written by August Wilson, Fences is a pure joy to watch with two dynamite actors in the prime of their careers.