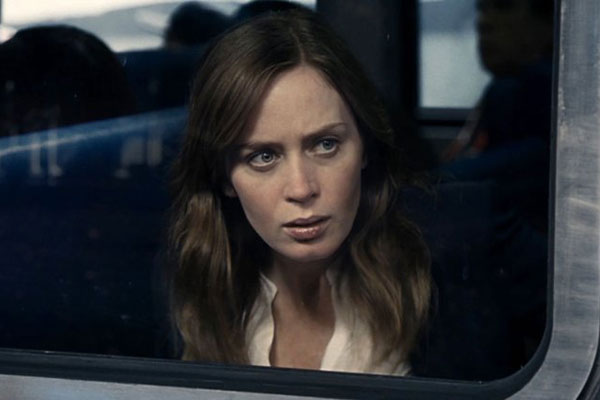 The Girl on the Train is a big disappointment. Maybe it's because I read the book and I was eager to see what director Tate Taylor (The Help) would do with the screen adaptation. But as the film unfolded, it started to feel like a mess.
The girl in the title refers to Rachel Watson (Emily Blunt) who regularly watches the life of a couple, Scott (Luke Evans) and Megan (Haley Bennett), from the window of her daily train rides. One day, she spots Megan in the arms of a strange man. Having created a backstory in her head for this perfect couple, she's alarmed and upset. When Megan turns up missing, she goes to the police to report what she saw. But since she's been hitting the bottle recently, she can't remember certain details. She starts to try and investigate things on her own which as you can imagine, isn't the smartest move.
Blunt is fine in the role, she does everything she can with it but the script lacks the details of the character that it had in the book. In the book, she's more of a lost soul that you feel sorry for. In the film, they have her portrayed differently, more crazy and whacked out. We don't find out why she's acting this way till later in the film so it creates a different tone and attitude towards her.
The rest of the characters are a bit one-note. There's the dirty girl, the cold wife, the aloof detective. The script, based on Paula Hawkins novel, as written by Erin Cressida Wilson feels almost underwritten. We know there's going to be a twist at the end but the filmmakers tried so hard to keep viewers from guessing the twist at the expense of character.
And there are things that happen where we're left wondering… what's up? For instance, Rachel travels on this train every day? But why? Does she have a job she's going to? Does she just like the train? We don't find out until halfway through the film that she's lost her job and she's just been taking the train to keep up with the routine so as not to alarm her roommate, Cathy (Laura Prepon).
The book is set in London and its suburbs and every character is British. For some unknown reason, the filmmakers set this in New York and every character is American, except for Rachel, who is British. It just seems strange that they would change the location of the story, especially when changing it doesn't change the narrative.
The book aside, the film is too short on character and tries way too hard for that final 'gotcha'.