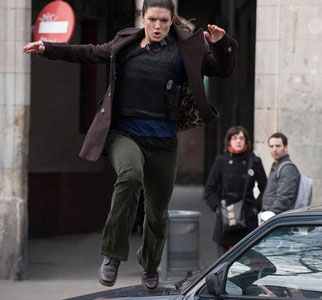 "You shouldn't think of her as a woman. That would be a mistake."
The woman in question is MMA star Gina Carano, who plays Mallory Kane (great character name) in Steven Soderbergh's brutally realistic espionage thriller, Haywire.
Kane is a highly trained operative who works for a secret government contractor. After she and a fellow operative, played by Channing Tatum, rescue a kidnapped journalist she is asked by former boyfriend Kenneth (Ewan McGregor) to do one more job for the agency.
She's quickly double-crossed and in an effort to save herself, she devises a plan to get back at those she once trusted.
Haywire is a no-nonsense, ultra-real film with some of the best fight scenes I've seen in years.When the action takes place, there is no music that the filmmakers rely upon. It's just the noise of flesh hitting flesh, head's hitting walls and crashing into glass. This draws you into the scene and into the action so much more than it would if there were music behind it.
There is music – think of the Soderbergh's Ocean's films and you'll get the idea of what the soundtrack is – but the film adds it where most other films wouldn't it. It's almost a flip-flop of conventional action flicks; action scenes – no music. Normal (what else do I call it?) scenes – music.
It really draws you into the film so much more than you would expect.
Carano stands literally head-to-toe with any of her counterparts and is equally deadly, if not more so. 
With a stellar cast that also features Michael Douglas, Antonio Banderas, Michael Fassbender and Michael Angarano working from a script by Lem Dobbs, they surround Carano and help her deliver a fine first time performance.
3 things I learned during this film:
Trust no one – Done!
If you're a spy, Blackberries are easy to hack into and you'll get killed – No worries. I own a Droid.
L.E.O's mean Law Enforcement Officer – Using that slang now!