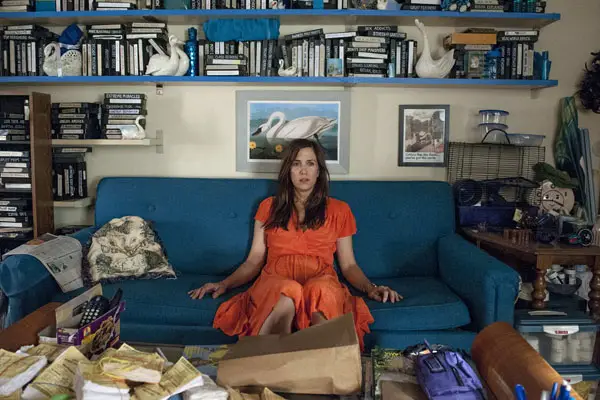 I admire Kristen Wiig to no end. After the success of Bridesmaids, she could have made pointless comedy after pointless comedy, filling her bank account. I'm not saying that Bridesmaids was pointless either because I loved it. But she's gone on to star in smaller films like Friends with Kids, Hateship Loveship and The Skeleton Twins. None of them huge hits but films that I'm sure resonated with her more than some over-the-top comedy.
In her latest film, Welcome to Me, Wiig stars as Alice Klieg, a woman with Borderline Personality Disorder. She's living off the state in an apartment in Palm Desert that's filled with old VHS tapes, has a fascination with Oprah and has a TV that's been on for 11 years. Oh, and she's been using "masturbation as a sedative," she tells people more than once.
She's got her routine down pat; which includes watching and reciting verbatim old episodes of Oprah, appointments with her psychiatrist (Tim Robbins) and buying lottery tickets.
And finally one day, she wins $86 million dollars.
So, what happens when someone with a disorder like this wins all this money? She moves into a casino and buys time on a local TV station to broadcast her own talk show.
Writer Eliot Laurence and director Shira Piven walk the line so perfectly here because Welcome to Me it isn't played for laughs. Don't get me wrong, there are plenty of them but it's all character based. You won't find Wiig's Alice doing something just to get a laugh, which is great because you never see the funny coming.
There are also a lot of cringe-worthy moments but with the situation of having a mentally disturbed woman helming her own TV show, that's to be expected.
The film never panders to the audience about her problem too. It's there; it's her, deal with it.
As the local TV executives and producers of a struggling station, James Marsden, Joan Cusack and Jennifer Jason Leigh's characters see dollar signs in Alice. And it's actually kind of sad how far things go with her; the station and execs clearly take advantage as she just keeps writing out the checks for more and more episodes. Wes Bentley, as a producer and co-owner of the station and love interest of Alice, is a nice buffer in redeeming the sins of seemingly normal people, as is her best friend, Gina (Linda Cardellini).
Wiig is perfect when she plays understated madness like this. She'll toss of a line that most actors would milk for everything its worth just because she's so sure of her comedic acting chops. After the wonderful The Skeleton Twins, she's back with another smart, touching performance here that you shouldn't miss.