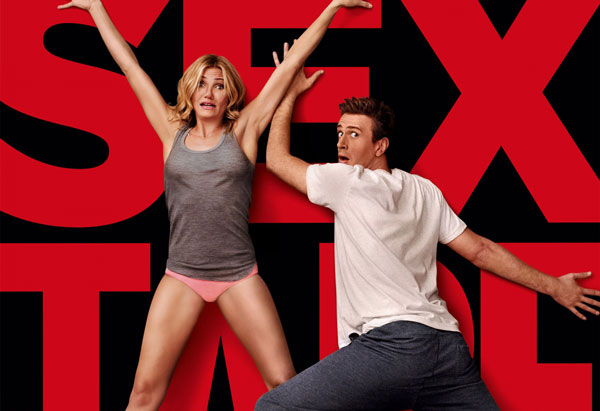 If you're interested in watching Sex Tape, the new film starring Cameron Diaz and Jason Segel, I have a suggestion: stay home and watch a real sex tape or make one of your own. You'll have a much better time and you'll save yourself a couple of bucks.
It actually starts out pretty promising. A married couple who have lost their mojo in the bedroom, decide to spice things up by sending the kids to grandma's and spending their night alone drinking and making a sex tape. When they wake up, they soon discover that the tape has been accidentally uploaded to the cloud. Not able to delete it, they decide they must go to each friend linked to the cloud and delete the video.
Leading up the search is actually pretty fun. Diaz and Segel have some nice chemistry, especially during the scenes when their making the tape and the discovery of what's happened.
But the whole thing takes a nose dive when they begin to track down the videos. It suddenly becomes an overacted, terrible mess. There's nothing original and everything that follows is absolutely unbelievable. If the filmmakers, including director Jake Kasdan, had made the first part move over-the-top unrealistic, then maybe the sudden shift to the absurd would have worked.
But it doesn't.
There are some genuinely funny moments, mostly in the beginning. And there's a sequence with Rob Lowe that's pretty funny but that's it. And it's a shame because the story had some great potential and Diaz and Segel are appealing actors. I just wish the filmmakers didn't try do something like After Hours or Hangover-esque.
Directed by: Jake Kasdan
Screenplay by: Kate Angelo and Jason Segel & Nicholas Stoller
Cast: Cameron Diaz, Jason Segel, Rob Corddry, Ellie Kemper, Rob Lowe